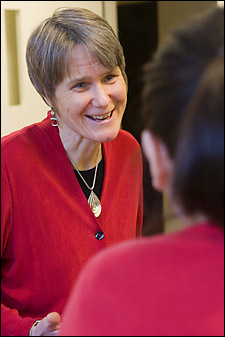 As recent debates over the teaching of intelligent design in our nation's classrooms show, the teaching of religion in public schools remains a controversial topic. The First Amendment to the Constitution, as well as the concept of the separation of church and state, cause many educators to shy away from religion in the classroom. Yet the history of the Crusades can't be taught, nor the art of "Hamlet" understood, without basic knowledge of the religious as well as the political and cultural contexts out of which each emerged. Where will today's youths gain an understanding of the world's religions if not through their formal educations?
For 34 years, the Program in Religion and Secondary Education (PRSE) at the Harvard Divinity School (HDS) has trained pre-service and in-service educators to navigate the murky waters of teaching about religion. As PRSE Director and Lecturer on Religion and Education Diane L. Moore explains, "It's the difference between teaching religion and teaching about religion. What's legal, constitutional, and educationally sound is to teach about religion from a religious studies versus a devotional standpoint. Ideally, the approach will recognize the diversity within particular traditions as well as between them, and focus on the intersection of religion, history, and culture."
Moore cites the example of teaching about Colonial America to students. Everyone teaches about the Puritans, she says, but you can't adequately understand who the Puritans were or their influence without a deeper understanding of religion than most educators currently possess. The PRSE, she says, "Gives teachers the tools to think about religion in a more sophisticated way."
"Teachers already teach about religion," says Moore. "What we do is give them better tools to do so more explicitly and responsibly by helping them understand more about religious traditions themselves, as well as how religion and religious worldviews are embedded in social, cultural, and political life."
The other reason that it's important to teach about religion," Moore says, "is that it's another dimension of our multicultural identity as a nation. We have an incredible diversity of religious views represented in our classrooms, and students need to feel like they can access those dimensions of their own cultural and intellectual lives."
Yet, despite the diversity of the religious views held by students, as well as the country at large, "We are a culture that is deeply and broadly religiously illiterate," says Moore. "We often know very little about our own faith traditions and are even less likely to know about other faith traditions. We have no organized context in our communities or as a society to learn about religions. The two main sources of information about religion are the media, which give a skewed version of religion through current events, or through one's own faith tradition, which is appropriately learned from a sectarian perspective."
According to Moore, it's a combination of wariness and a lack of knowledge that keeps most teachers from providing a thorough education about religions. "It's not that teachers aren't capable – they're eminently capable – but they haven't been exposed to the academic study of religion so they often don't have the content knowledge or the methodological tools to think about how you integrate religion responsibly," she says. "Schools of education rarely train teachers to teach about religion."
In fact, the PRSE is the only program of its type in the nation. Moore, however, is working to create some competition. She is the chair of an American Academy of Religion task force that's trying to partner schools of education with religious studies departments.
Students interested in the PRSE must first be accepted in either the Master of Theological Studies or the Master of Divinity program at HDS. They then apply to the PRSE. In addition to the usual requirements of the master's degree programs, they are required to take a course on adolescent psychology, a course called "Religion, Values, and Public Education," which is taught by Moore, and a colloquium in religion and secondary education. The first semester of their second year is spent at a Boston-area school teaching at least two courses with a mentor teacher. Finally, they take two licensure exams administered through the Massachusetts Department of Education: a general literacy exam and one in their chosen subject area. The PRSE currently numbers 32 students.
PRSE student Jim Norton, who taught for three years before coming to the PRSE, says that he has gained a more intellectual and philosophical approach to teaching. As an English teacher, he doesn't focus specifically on religion, but says, "What the program has taught me to do is to expand my view of art and literature."
Norton jokes, "I'm probably more well-versed in teaching about religion than I am in religion!"
Another student who taught before coming to the program is Shipley Robertson Salewski. Says Robertson Salewski, "It's the only program in the country that combined the two things I was trying to do, which were to go deeper in my religious education and also to prepare myself to be a better teacher."
Robertson Salewski, who teaches English to sophomores and juniors at Madison Park Technical Vocational High School in Boston, says that teachers shy away from teaching about religion because of questions about the constitutionality of teaching religion as well as fear of the sensitivity of parents.
HDS students echo Moore's belief that a better-educated citizenry creates a better-functioning democracy. As PRSE student Samuel Potolicchio puts it, "We need to introduce to our students a basic foundation in religion that will provide them with the background to engage in our religious and political debate and … improve the quality of our national conversation."