Susan Athey, an economic theorist who has made significant contributions to the study of industrial organization, has been named professor of economics in Harvard University's Faculty of Arts and Sciences, effective July 1.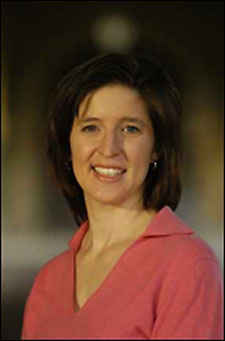 Athey, 35, comes to Harvard from Stanford University, where she was the Holbrook Working Professor of Economics. She is also a research associate at the Cambridge-based National Bureau of Economic Research.
"Professor Athey's passion for economics is obvious to anyone who interacts with her," says William C. Kirby, Edith and Benjamin Geisinger Professor of History and dean of the Faculty of Arts and Sciences. "She has written elegant theoretical pieces, significant papers with more applied models, and compelling empirical papers. In addition to her gifts as a first-rate researcher, she also brings a reputation as a superb teacher and mentor at both the graduate and undergraduate levels."
In 2001, Athey won the Elaine Bennett Research Prize, given biennially by the American Economics Association to the nation's best young female economist. She was elected a fellow of the Econometric Society in 2005, was selected as a Sloan Foundation Research Fellow in 2000, and received a prestigious CAREER award from the National Science Foundation in 1999.
Athey's research to date has been divided between economic theory and industrial organization. Her early work in economic theory, some of which grew out of her doctoral thesis, helped unite a large body of game theory research describing games characterized by incomplete information. Athey's work identified common threads in this disparate literature and helped derive a result useful in analyzing almost all such games.
Also in the theoretical arena, Athey analyzed the question of how much a researcher can hope to learn about the demand for goods using data from auctions. In addition, she co-authored a series of influential papers that examined collusion in cases where organizations' costs are private information, adding significantly to the literature by focusing on different forms of information sharing.
Athey's other work has included several studies of U.S. Forest Service timber auctions, work that developed theories of strategic bidder behavior and provided empirical evidence supporting the theories. She has taken her interest in timber auctions into the policy arena as well, working closely with British Columbia's Ministry of Forests in designing a new auction-based pricing method for government-owned timber.
Athey earned a B.A. from Duke University in 1991 and a Ph.D. from Stanford's Graduate School of Business in 1995. She was named an assistant professor of economics at Massachusetts Institute of Technology in 1995, and was named the Castle Krob Career Development Associate Professor of Economics in 1999 before joining Stanford in 2001. Athey was also a visiting assistant professor of economics at Yale University in 1997 and 1998, a national fellow at Stanford's Hoover Institution in 2000 and 2001, and a fellow at the Center for Advanced Study in the Behavioral Sciences in 2004 and 2005. She has served as an associate editor for several leading economics journals, and she chaired the program committee for the 2006 North American Meetings of the Econometric Society.