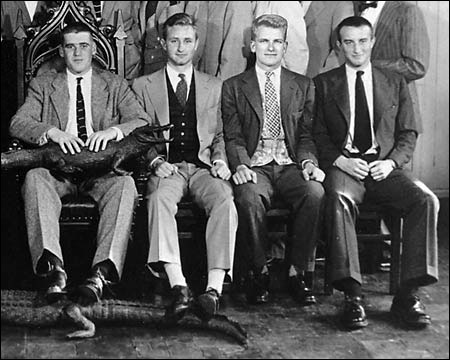 The University's oldest a cappella singing group, the Harvard Krokodiloes, will celebrate its 60th anniversary next month in Cambridge. The main event of the four-day fête, which kicks off March 16, is a gala concert on March 17 at 8 p.m. in Sanders Theatre. The concert will feature current Harvard Krokodiloes, with special guest appearances by alumni groups representing the six decades of the ensemble's history.
Founded in 1946 by four members of the historic Hasty Pudding Club/Institute of 1770, the Krokodiloes (the name was inspired by the club's reptilian mascot) have grown from a small singing ensemble into a 12-man group whose membership is open by competitive auditions to all male vocalists at Harvard regardless of race, color, creed, social status, and sexual orientation. The "Kroks" perform more than 200 concerts a year in the United States and on annual world tours.
Unlike many of today's college a cappella ensembles, the Harvard Krokodiloes strive to promote and preserve the popular standards of the American songbook by performing numbers from the 1930s, '40s, and '50's. The bulk of the Kroks' repertoire is drawn from the works of master songwriters such as George and Ira Gershwin, Cole Porter, and Johnny Mercer, among others.
Many alumni of the Harvard Krokodiloes have gone on to major careers in the worlds of entertainment, business, and politics. Past Kroks include first-year member Fred Gwynne '48, who entered the pop culture pantheon for his role as Hermann Munster in the popular television program "The Munsters"; George Lodge '50, assistant secretary of labor to Presidents Eisenhower and Kennedy;
Leo Kiely '69, CEO of Coors Inc.; Paris Barclay '78, the Emmy award-winning television director, producer, and writer whose credits include "NYPD Blue," "The West Wing," and "ER," among others; James Bundy '81, dean of the Yale School of Drama/artistic director of Yale Repertory Theatre; and Laurence O'Keefe '91, composer of "Bat Boy: The Musical" and the upcoming Broadway production of "Legally Blonde."
The group's reputation for musical excellence has earned them invitations to appear at such acclaimed venues as New York's Carnegie Hall, Boston's Symphony Hall, the Cairo Opera House in Egypt, and England's Aldeburgh Festival. The group has numbered among its fans luminaries including President Bill Clinton, Princess Grace of Monaco, the Aga Khan, and Ella Fitzgerald. Each year, the ensemble entertains at the annual Hasty Pudding Theatricals Woman of the Year festivities, performing for the likes of Catherine Zeta-Jones, Sandra Bullock, Anjelica Huston, and Sarah Jessica Parker.