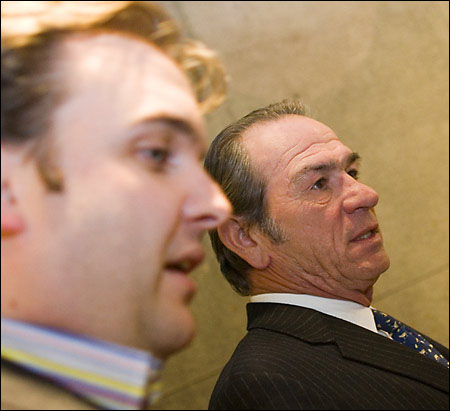 Tommy Lee Jones '69 returned to Harvard to attend the premiere of his new film, "The Three Burials of Melquiades Estrada." The film marks Jones' debut as the director of theatrical films (he directed a TV movie, "The Good Old Boys," in 1995). This time, however, he is also co-producer, co-writer, and star.
Dressed in a well-tailored pinstripe suit and looking very unlike the grizzled Texas ranch hand he plays in the movie, Jones stepped to the podium to deliver a few words of introduction before the Jan. 23 screening, then returned afterward for the Q&A.
"You know this is a benefit for the Harvard Film Archive," he deadpanned. "I was dismayed to learn they had only charged you $20 to get in. It could have been more. Well, maybe next year."
The remark may have been facetious, but Jones' feelings of indebtedness to Harvard and to the Carpenter Center were obviously genuine, as he made clear later in response to a question about his preparation as a director.
"A big part of my education began right in this building on the top floor," he said, referring to the spaces where studio classes are held. "That was where I began to learn to see."
The film itself provided ample evidence of Jones' educated eye. Working in close collaboration with veteran cinematographer Chris Menges, Jones has turned the sunbaked Texas landscape and even such unlikely settings as a dusty truck depot and a trailer park into a kind of gritty visual poetry.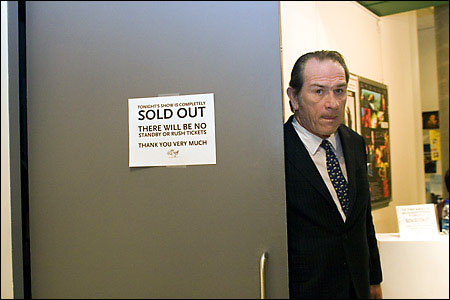 The story is about a Mexican cowboy (the thrice-buried Melquiades Estrada, played by Julio Cedillo), working in the United States illegally, who is accidentally gunned down by a jumpy, overzealous Border Patrol guard. Local officials hush the killing up, which infuriates Estrada's close friend Pete Perkins, played by Jones.
Driven by his personal sense of justice and a promise he made to his friend, Pete kidnaps the border guard, forces him to exhume the body, and drags him along on a journey to Estrada's town in Mexico, where he plans to return Estrada's body to his wife and family.
Essentially, the film tells a story about a teacher and his student. In the course of their pilgrimage, the border guard, an extremely reluctant learner, is forced to acknowledge basic truths about humility, respect, and the value of human life. The lessons are not easy ones, and even assuming movie make-believe, it is hard to conceive how the actor (Barry Pepper) survived the ordeal without sustaining major injuries.
"It was a very demanding role physically – and intellectually and spiritually as well," Jones said. "Barry just got beaten to hell. But he did a very thoughtful job."
There were some animals in the movie that seemed to fare even worse than Pepper, particularly a packhorse that tumbles several hundred feet off a sheer cliff while Pete is trying to elude his pursuers. Clearly the audience felt anxious about that horse, for at the end of the credits, when the message rolled down the screen that no animals had been hurt during the making of the movie, a spontaneous burst of applause went up.
"Yeah, we killed six horses getting that shot," Jones replied to a question about the scene. "Horses are really cheap out there – no, just kidding."
The real explanation was that he had a special-effects company build "an articulated animal dummy" whose head and limbs moved realistically as it was falling through the air. Its color matched that of the real horse.
"If you cut quick enough, it looks just fine."
Jones, whose first movie role was as one of Ryan O'Neal's classmates in "Love Story," a year after his real-life graduation from Harvard, and who has starred in dozens of films since then, including "Lonesome Dove," "Blue Sky," "The Fugitive," and "Men in Black," explained that his latest film had its inception on a hunting expedition with a group of friends from the film industry.
"I said at one point, there's a lot of talent in this truck. We ought to make a movie together."
Screenwriter Guillermo Arriaga ("21 Grams") wrote the script, with input from Jones and others. Jones said he always knew he would play the principal part.
"I knew I'd never get to direct it unless I got a very expensive actor who would work for nothing."
Jones said that he and his fellow filmmakers shared an interest in the history and culture of the border area between the United States and Mexico and in the themes of alienation and redemption.
Asked about his views on the Border Patrol and its treatment of illegal immigrants, Jones said that as a native Texan he was naturally concerned about the problem, but that as a filmmaker he was not trying to promote a particular political agenda.
"I do live in the area, and these issues are dear to my heart. That's why I made the movie, but I don't have a personal drum to beat."