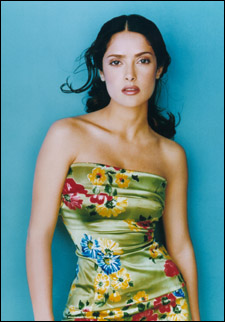 Acclaimed actress, producer, and director Salma Hayek has been named the 2006 Artist of the Year by the Harvard Foundation for Intercultural and Race Relations. Hayek, the unanimous choice of the selection committee, will be awarded the foundation's most prestigious medal at Harvard's annual Cultural Rhythms ceremony this Saturday (Feb. 25).
"The students and faculty of Harvard are pleased to present the 2006 Artist of the Year award to the distinguished actress Salma Hayek," said S. Allen Counter, director of the Harvard Foundation. "She is the consummate artist, a brilliant thinker with broad intellectual interests, and a compassionate advocate for humanitarian causes."
Hayek's recent film credits include acting in and producing the six-time Academy Award-nominated "Frida," and her starring roles in "After the Sunset" and "Once Upon a Time in Mexico." Hayek received an Emmy award in 2004 for directing "The Maldonado Miracle." She starred in the recently completed film "Lonely Hearts" and is the lead in the soon-to-be-released Robert Towne film "Ask the Dust."
Hayek's humanitarian contributions being recognized by Harvard include her service as national spokesperson for the Avon Foundation's Speak Out Against Domestic Violence program, for which she addressed the U.S. Senate on the subject. She is also being saluted for her notable contributions to the prevention of breast cancer, and environmental causes, such as Earth Day, Greenpeace, and the impact of global warming.
---
The Artist of the Year award will be presented to Salma Hayek this Saturday (Feb. 25) during Harvard's 21st annual Cultural Rhythms Festival. The program will begin at 3 p.m. in Harvard's historic Sanders Theatre, with the award presentation scheduled for approximately 4:30 p.m. For tickets, call the Harvard Box Office at (617) 496-2222.
---
"Harvard is delighted with the selection of Salma Hayek as the 2006 Artist of the Year," said College Dean Benedict Gross. "Because of her unique artistic talent and humanitarian efforts in the prevention of domestic violence and breast cancer awareness, as well as her environmental advocacy, Harvard is proud to honor her accomplishments and acknowledge her fine example."
The Harvard Foundation, Harvard's pre-eminent center for intercultural arts and sciences initiatives, annually honors the nation's most acclaimed artists and scientists. The Harvard Foundation's Artist of the Year award bears the signatures of Harvard's president, the dean of Harvard College, and the director of the foundation. Previous foundation award winners include Sharon Stone, James Earl Jones, Andy Garcia, Will Smith, Matt Damon, Halle Berry, Denzel Washington, and Jackie Chan.