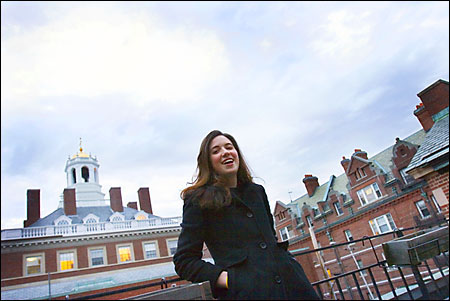 Harvard senior Lauren Schuker has won a prestigious two-year Marshall Scholarship with which she plans to study art history, with a focus on how art serves as a window on the society that produces it.
Schuker, an English and American literature and language concentrator who lives in Kirkland House, plans to study for a master's degree and possibly continue her studies to earn a doctorate at the Courtauld Institute of Art in London. She plans to focus her work on Britain and America during the period after World War II through the Cold War.
"I hope I can use art to look at society, to look at historical changes," Schuker said.
Schuker, who serves as president of The Harvard Crimson, was among 43 scholars across the United States who were named Marshall Scholars Monday (Nov. 28) by the Marshall Aid Commemoration Commission. Marshall Scholarships were set up by the British government in 1953 to thank the United States for helping to rebuild Britain and Europe after World War II. The awards are named after former U.S. Secretary of State George Marshall, whose support was crucial to the Truman administration's postwar aid program.
The scholarships are open to U.S. citizens with a bachelor's degree from a four-year college or university in the United States and who have a grade point average of at least 3.7. The scholarships cover university fees, living expenses, book costs, plane fare, and other expenses related to study in Britain for two years, though in some cases they can be extended for a third year's study.
Schuker joins 238 Harvard students who have been named Marshall Scholars over the years.
William Wright-Swadel, director of Harvard's Office of Career Services, said that Schuker has a rare combination of leadership, creativity, and vision.
"She's president of the Crimson and a pretty remarkable character. Not only is she a leader but she's an observer of culture and of people," Wright-Swadel said. "She's really the epitome of the Harvard College student in that she's involved in service, shows leadership, and exhibits both academic excellence and individual creativity."
Schuker became interested in both journalism and art history during her high school years at Buckingham Browne & Nichols in Cambridge. During her years there, she took her first art history course and got a taste of journalism working on the school paper.
"My high school paper is kind of where I fell in love with newspapers and that passion continued at the Crimson," Schuker said.
Schuker worked as a Crimson reporter and news editor before taking over as president in January 2005. She led the redesign of the Crimson's Web site and helped to co-found the Harvard Crimson Summer Journalism Academy, which teaches journalism skills to inner-city children for a week each summer.
Though Schuker took only one art history class at Harvard, she said several other classes that used art to examine culture and society during heightened political eras like the Cold War and Nazi Germany were influential for her.
After studying in Britain, Schuker said she would like to be a writer and perhaps a university professor.
"I know I want to be a writer, but I don't know whether in the academic sphere or the popular sphere," Schuker said.