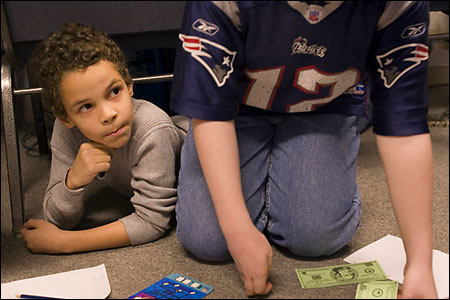 Math homework is not one of 10-year-old Aubrey Cappucci's favorite things, but at The East End House after-school program in her East Cambridge neighborhood, she's found a way to learn about math and love it – through games.
Sitting crosslegged on the floor in a computer-room-turned-classroom, Aubrey is one of a small circle of 10- and 11-year-olds engaged in a heated race to fill up their shopping carts in the board game Buy It Right.
"Money Makers," a class designed to expose children to the real-world applications of math, is almost over. Aubrey, who needs to purchase one more item, shouts excitedly that the turn is hers and rolls three dice. She quickly formulates the lowest price for her last item, counts out the money, and completes her shopping cart. "I work hard for my money!" she exclaims.
"This wouldn't happen if she were given a worksheet with dollar bills and coins and told to go buy things with them," says Sarah Link '01, GSE '04, East End House's director of out-of-school time initiatives.
Aubrey is just one of hundreds of Cambridge children who are benefiting from the Learning Support Program, which is part of the Harvard After School Initiative (HASI) that supports after-school programs in the Boston area.
As part of the new Cambridge program – now in its second month – 10 after-school programs received a weighty kit of dozens of games and other learning resources valued at $1,500, on-site training and ongoing support from the HASI team for each center's directors, teachers, and volunteers, and guides for using the materials effectively.
From Central Cambridge to Riverside to East Cambridge, games in the learning support kit – like Buy It Right, Battleship, and a popular strategy game called Blokus – are being tapped regularly by teachers as a way to encourage strategic thinking and enrich math learning, and are enthusiastically welcomed by students, who just like to play. Boggle and Magnetic Poetry help children to build their vocabularies during homework help time, and reference materials like fraction flash cards and other tools are a handy accessory to have when math homework gets tough.
The staff at participating after-school programs say the results are dramatic.
"This has absolutely changed the way we are teaching in our classrooms. These children have never been so focused," says Link, noting that the tools and training have allowed East End House teachers to engage their students in more academically focused classes in a meaningful way and to bring fun activities to school subjects.
"With all the pressure of preparing for standardized tests, there isn't as much time to do hands-on activities in the classroom," says Link. "After school isn't simply extending the school day, but giving children the opportunity to practice and use the skills they learn in school."
Across the city at the Area Four Youth Center, which serves 60 children in the Central Square area, great effort is being made to encourage academic achievement while having fun.
"We are trying to bridge a gap," says the center's director Charles Walker. "These games help by offering a hands-on way to create some of the learning not taking place in the classroom."
On any given afternoon, children at Area Four are working away in a half-dozen rooms, either on homework or focused on a game after the homework is done. "The children don't see them as educational," says Walker of the games, "but they are."
Area Four teachers say the resources and training have really extended the ways they can reach students during after school or as a transition into after-school time. "We have a lot more techniques, more avenues, and more resources at our disposal," says teacher Clifford LaRoche. "Our homework hour is more structured, the students are more engaged – there has been a drastic change in participation."
City officials say the program has been enormously well-received by the Cambridge programs.
"For those children who struggle with achieving during daytime academics, being able to participate in after-school learning that is fun and engaging is especially critical because it offers them a different way to achieve learning success," said Ellen Semonoff, the city of Cambridge's assistant city manager of human services. "The HASI training and materials help create a learning environment that allows children and youth with all learning styles and abilities to work together successfully. The tools are linked to the state curriculum standards so children are engaged in learning that is connected to their school day academics."
And for Harvard, the new program adds another connection to the children of Cambridge.
"HASI offers a way for Harvard to participate in enhancing the academic achievement of these students and adds to the web of connections that already exists between Harvard and Cambridge after-school providers," said Mary Power, senior director of community relations, whose office has launched and funded the program.