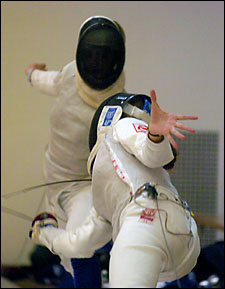 The intimate confines of the fencing room in Harvard's Malkin Athletic Center are perhaps better-suited for practice than competition, but on the evening of Dec. 7, it was bursting at the seams as a raucous and impassioned crowd of Crimson supporters watched the Harvard fencing teams continue their strong start with convincing victories over Brandeis.
Buoyed by an undefeated men's epee squad, the Harvard men went on to beat Brandeis 23-4, while the women, led by reigning Junior World Champion Emily Cross '08 in foil, recorded a 24-3 victory over the Judges.
Having recently returned from the Trofeo Federico II, a Junior World Cup event in Jesi, Italy, where she won the women's foil competition, Cross relished the opportunity to take the strip in front of her home fans.
"It's an amazing atmosphere, fencing at school. It's completely different from fencing internationally, because you have your whole team behind you, and they're rooting for you 100 percent," Cross said.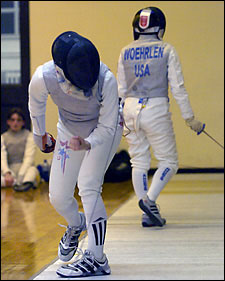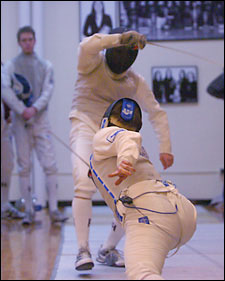 Current junior world champion and Harvard foilist Emily Cross '08 (left) conveys much emotion after scoring a touch against Brandeis' Tess Woehrlen. Men's foilist Sam Cross '09 (right, background) attempts to score on a counterattack with a flick after his Brandeis opponent falls short.
Harvard fencing is coming off their best season in recent memory, with the women claiming their first-ever Ivy League title in 2004-05, while the men earned a share of the crown with Columbia, marking the Crimson's best finish in nearly 30 years. League competition was followed up with the men and women winning the combined events of the ECAC-IFA Fencing Championships, while head coach Peter Brand was named Coach of the Year by the United States Fencing Coaches Association (USFCA).
According to Cross, their goals for this season are even higher: "I think an NCAA title is definitely in reach for this year. It will be a challenge, but our team has a good chance of qualifying a full team to NCAA championships this year (12 fencers) whereas last year we had only 10, so we'll be on a level playing field with all the other big schools, and I think that will make a huge difference." Cross added, "Peter [coach Brand] told us at the beginning of the year that winning NCAAs was a possibility, and he's definitely right."
The Crimson return to action after winter break, when both the men and women travel to Ithaca, N.Y., on Feb. 5, where they'll open defense of their league title in Ivy League North action. Three days later, the men will host Boston College at 7 p.m. Visit http://www.gocrimson.com for the latest results.