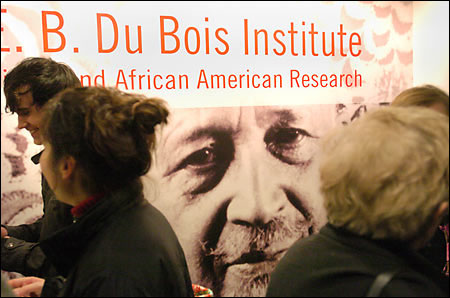 "Synergy" was the word bouncing around the three refurbished floors of the new research space for the W.E.B. Du Bois Institute at its recent open house. And an appropriate word it is for a building that will house lively projects on distinct yet related areas ranging from Languages of Africa's Islamic Regions to the African Hiphop Research Project.
"This is the largest physical space for African-American research in the world," enthused Henry Louis Gates Jr., W.E.B. Du Bois Professor of the Humanities, director of the institute, and chair of the Department of African and African American Studies. "And this is the first time since I became director in 1991 that all of our research projects are under one roof. This is history-making and this is one of the happiest days of my life!"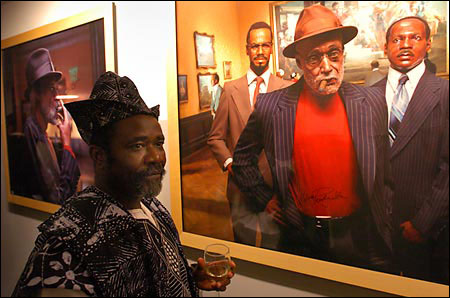 The well-attended open house was held on Nov. 22 to celebrate and to welcome visitors to the new 104 Mt. Auburn St. location in Cambridge. The three floors of the institute offer 10,000 square feet of usable space. Other projects sheltered by the new home will be the African AIDS Initiative International, the Image of the Black in Western Art project, and the editorial offices of the Du Bois Review and Transition Magazine.
Also in the space is the Neil L. and Angelica Zander Rudenstine Gallery. The gallery currently features an exhibition of works by renowned Afro-Cuban artist Maria Magdalena Campos-Pons titled "Bojeo: Traces in a Fragmented History." In the future, the gallery will continue to showcase African and African-American art and artifacts. Rudenstine was on hand to commemorate the opening of the gallery and he spoke briefly about Du Bois' love of art.
Gates said that the gallery was named after Rudenstine because of his enthusiastic support for the institute throughout his tenure as president of the University.