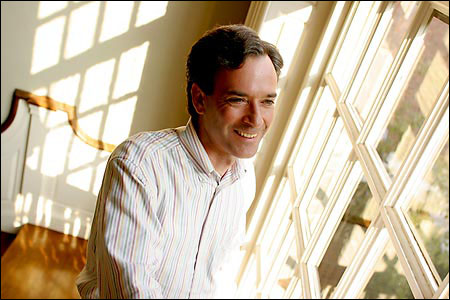 Photo by Rose Lincoln
When Steven Riel talks about his life, much of what he relates sounds like poems waiting to happen.
"I took a French class at the Extension School a few years ago. I wanted to explore my Franco-American roots. French Canadians tend to be self-conscious about their identity. They tend to keep their heads down. Then I discovered that the professor, who was from France, had come here to study Franco-Americans in Lowell. She had come to study me!"
"I did very well in high school. I was valedictorian of my class. And I remember looking at all those awards on the mantelpiece and thinking, if people knew I was gay, all of this would go up in flames."
"I wrote a poem in 1985 in which I imagined what my wedding might be like. It was a humorous poem, but angry, an angry joke. Last year, my partner and I were able to get married after being together for 28 years. I never entertained the possibility that this could really come to pass."
Riel has published two books of poetry, "How to Dream" (1992) and "The Spirit Can Crest" (2003). Now 45, he started writing poetry in high school ("like everyone else"), but he kept going. "I think at first it was a way to address being gay, of coming to terms with that kind of otherness."
Then additional themes began to weave their way in – childhood, being French, the death of a younger brother from AIDS, Emily Dickinson, a bittern picking at garbage in a polluted river, the Quabbin Reservoir, Catholicism, "Rosemary's Baby," the ampersand.
And to complement the calling of poetry – a job. Riel is preservation cataloger and projects manager in the Weissman Preservation Center. He works on the Brittle Books Project, creating microfilm and digital facsimiles of the library's endangered volumes and entering precise data into HOLLIS so that scholars can track their quarry through the informational forest. Is there a connection between this work and poetry?
Riel seems puzzled for a moment, then rises to the quintessential poet's challenge of finding a connection between two things:
"As a cataloger, I create a surrogate that accurately represents the item so that people will know what it is and be able to find it. As a poet, I record and refine my words so that they accurately convey what I want to express. The catalog entry is an intermediary between the item and the user. The poem is an intermediary between the poet and the reader."