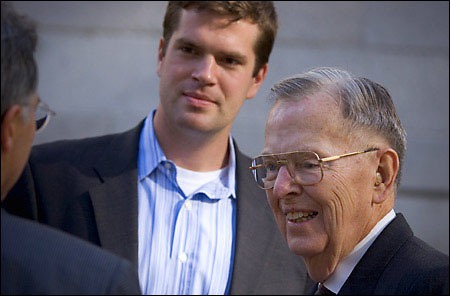 Kevin Eggan, assistant professor of molecular and cellular biology at Harvard and a principal faculty member of the Harvard Stem Cell Institute, has been named an assistant investigator by the Stowers Medical Institute (SMI), which is based in Cambridge. Eggan and several members of his lab have become employees of SMI, but will continue to conduct their research at Harvard, where Eggan remains a member of the faculty.
Eggan's arrangement with SMI, which was founded and is funded by Kansas City, Mo., philanthropists Jim and Virginia Stowers, is similar to that which some researchers at Harvard and other institutions around the country have with the Howard Hughes Medical Institute – the researchers are based at their home academic institution but are employees of HHMI, which funds their research. The arrangement with the Stowers Medical Institute will provide approximately $5.9 million in funding for Eggan's lab over the next five years.
"I am honored to be a founding member of the Stowers Medical Institute," said Eggan. "Jim and Virginia Stowers' commitment to supporting medical research is admirable, and their funding will allow us to aggressively pursue several tremendously promising areas of research. To have the benefit of SMI funding right here at Harvard is a tremendous opportunity, and we are all excited to make the most of it."
Jim Stowers explained the decision to fund Eggan's research by saying, "Virginia and I are committed to supporting the most promising biomedical research in the world. The excellent research conducted by scientists at the Stowers Institute for Medical Research has surpassed our lofty expectations, and we anticipate more of the same from Dr. Eggan. We are delighted to be funding his phenomenal work."
Stowers said that he and his wife decided to fund stem cell research at Harvard, rather than at the Stowers Institute for Medical Research, in Kansas City, Mo., because of threats in the Missouri legislature to ban stem cell research.
Harvard Provost Steven E. Hyman called the Stowers' "generous funding of Kevin Eggan's research particularly welcome for two reasons: It underwrites first-class science and represents a wonderful and visible commitment to stem cell research by Jim and Virginia Stowers."
Jim Stowers Jr. founded the multibillion-dollar American Century Companies in 1958. Inspired by their own personal experiences with cancer, Jim and Virginia Stowers founded the Stowers Institute for Medical Research (SIMR) in Kansas City in 1994 with an initial gift of $50 million. Through additional contributions by the Stowers and investment performance, that endowment has grown to more than $2 billion, and today, SIMR scientists study the way genes determine biological fate and how they can be altered to prevent, treat, or cure disease. SIMR opened the doors of its first research facility in 2000, and plans to build an additional 600,000 square feet of research space every decade, in perpetuity.
– B.D. Colen