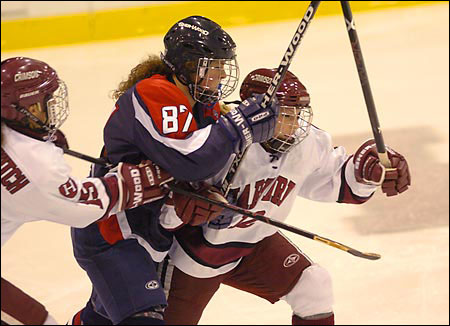 With five key skaters from last season's squad either gone for good due to graduation (national scoring leader Nicole Corriero and top defender Ashley Banfield), or out for the year chasing Olympic gold (U.S. national team hopefuls Julie Chu '06 and Caitlin Cahow '07, and Canadian Sarah Vaillancourt '08), the Harvard women's hockey team looked to its new flock of freshman – eight in all – to soar past Robert Morris University (RMU), 7-0, in the Crimson's season opener this past Saturday (Oct. 29) at Bright Hockey Center.
Up against the Colonials, an upstart team sloshing through their inaugural season with an 0-4-0 record (prior to the shutout at Bright), the game marked a fitting debut for the untested, fresh-faced Crimson. Fitting, but maybe not altogether fair. Even in the absence of Corriero and company, the Crimson – ranked nationally at No. 7 – still packed plenty of firepower, outshooting the visitors 56 to 17. Carrying the load, a trio of freshmen who tallied three goals and four assists.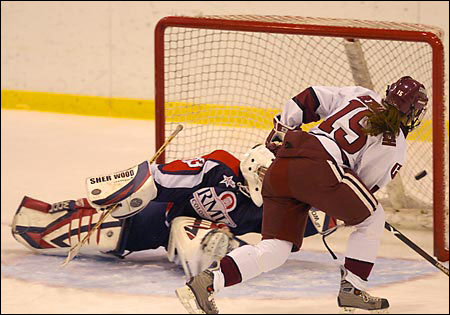 A little over a minute after senior Jennifer Raimondi's opening goal at 7:08 of the first period, freshman Sarah Wilson collected her first of two power-play goals to lead the offensive charge for Harvard. Five minutes after Wilson's second tally in the middle stanza, fellow first-year Kirsten Kester beat Brianne McLaughlin to give Harvard a 4-0 lead. Juniors Jennifer Sifers and Katie Johnston, along with sophomore Laura Brady, added a goal apiece in the third period, when Harvard unleashed a torrent of shots (23) to turn the contest into a rout.
Between the pipes, senior Ali Boe recorded 16 saves to preserve her 14th career shutout – a new school record.
Harvard (1-0-0; 0-0-0 ECACHL) continues its five-game home stand this Friday (Nov. 4) against Quinnipiac. Meanwhile, the men's team (1-0-0; 0-0-0 ECACHL), 6-2 winners over Dartmouth over the weekend, face Quinnipiac in Hartford, Conn. Visit http://www.gocrimson.com for the latest scores and information.