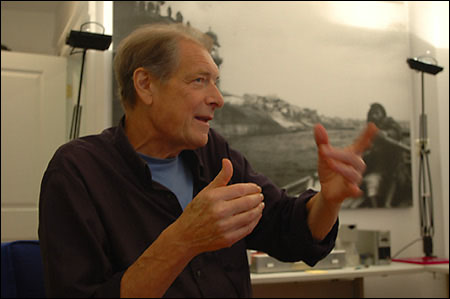 Derek Lamb, one of the first teachers of film animation at Harvard and a prolific and admired animator in his own right, died Nov. 5 in Seattle after a long struggle with cancer. He was 69.
Lamb began teaching at Harvard in the mid-1960s in what was then known as the Light and Communication Workshops, a division of Visual Studies (which later became Visual and Environmental Studies). Robert Gardner, who was coordinator of Light and Communications, recommended hiring Lamb after seeing one of his animated films.
"I saw Derek's film 'The Great Toy Robbery' and knew he had to come to Harvard to counterbalance any tendencies toward solemnity in our proceedings," Gardner said.
But levity was not the only quality embodied by Lamb's films, Gardner said. They also made you think.
"Derek was a mightily accomplished comedic storyteller. His highest hope and purpose was to use his gifts to entertain and not simply divert. One walked away, if one could, from a film like 'The Last Cartoon Man' holding one's sides and pondering the weight of its meaning."
Lamb taught at Harvard as a lecturer on Visual Studies until 1970, then returned in 1986 and 1990 as a guest lecturer. Award-winning animator Caroline Leaf '68 remembers his special qualities as a teacher.
"Derek was an enabler," Leaf said. "He had energy and made things happen. He wasn't a teacher in the ordinary sense of the word, imparting information or know-how or being a role model. He created an environment that buzzed. He made it exciting to be active and try out new things."
Born in Bromley, Kent, United Kingdom, Lamb began working as an animator with the National Film Board of Canada, producing animated films for the BBC. Working as a writer, director, and producer, he created both experimental and commercial films in Canada, the United States, and Europe.
Lamb won two Academy Awards for best animated short films – in 1978 for "Special Delivery" and in 1979 for "Every Child." His other film credits include "I Know an Old Lady Who Swallowed a Fly," "Psychic Parrot," "The Hottest Show on Earth," "Why Me?" and "Afterlife." He also directed and produced "Karate Kids," a short, animated film designed to provide AIDS-prevention information for street children. Most recently, Lamb served as executive producer on the Emmy-winning PBS series, "Peep and the Big Wide World."
He leaves his wife, singer-songwriter Tracie Smart, and two sons from an earlier marriage, Richard of Bennington, Vt., and Thomas of Los Angeles.