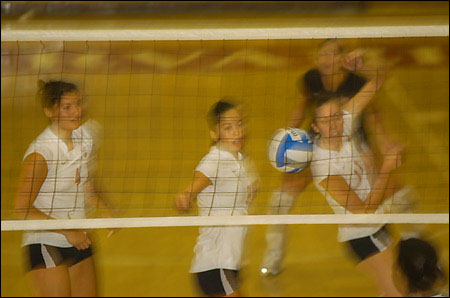 After a miserable September that saw the Harvard women's volleyball team take just two out of 10 contests, the Cambridge squad finally found reason to celebrate this past Saturday evening (Oct. 1) against visiting Sacred Heart. The Crimson, which trailed just once in the match, limited the struggling Pioneers (3-12 on the season) to a negative .027-hitting percentage to capture the match in convincing fashion, 30-22, 30-20, 30-16. The 3-0 win resulted in a weekend split for the home team, who had fallen to league frontrunner Dartmouth by the same tally the previous evening.
Harvard's revelry was short-lived however, as any hope of stringing together something resembling a win streak hit a snag this past Tuesday (Oct. 4) against the University of Connecticut in Storrs. Despite the Crimson's valiant effort in the third game to avoid getting swept (in which the Harvard club generated an outstanding .341-hitting effort), the host Huskies clawed back from a 26-21 deficit to take the contest, 33-31, and the match, 3-0. In games one and two, the Huskies averaged a .455-hitting percentage to better the Crimson, 30-14 and 30-19.
Individually, Harvard outside hitter Laura Mahon '08 paced her team with 13 kills on the evening, while compiling an impressive .385-hitting percentage. Last season's Ivy Rookie of the Year, Mahon also had five digs. Teammate Kathryn McKinley '09, meanwhile, collected seven digs to lead all Crimson.
Following Tuesday's loss, the women fall to 3-9 on the season (0-2 Ivy). With a dozen games remaining on the '05 schedule, the race for the Ivy title kicks off in earnest this Friday (Oct. 7), when the Ancient Eight teams begin competing exclusively with one another. Harvard squares off against Penn (4-7; 1-0 Ivy) at the Palestra in Philadelphia at 7 p.m. Check http://www.gocrimson.com for updates.