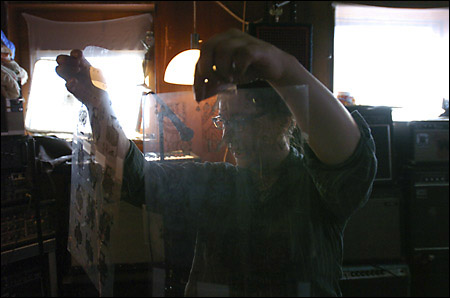 Photo by Kris Snibbe
Emily Arkin wanted a tattoo. But since tattoos are forever, she didn't want one she'd regret later on. So she started doodling on napkins, trying to come up with an original design.
"I thought if it were something I drew myself I would be less likely to hate it."
Arkin is a do-it-yourselfer from way back. In fact, if it wasn't that she wanted the tattoo on her back, you get the sense that even the final stage in the process might not have been beyond her DIY abilities. But as it happened, she took her design – an original version of the four playing card suits – to legendary tattoo artist Pat Sinatra in Woodstock, N.Y., who executed a faithful rendering along Arkin's spine.
Then she thought, why not take her filigreed hearts, diamonds, clubs, and spades, and make them the basis of a full deck? She designed kings, queens, and jacks, as well as a pattern for the backs of the cards, then taught herself how to silkscreen the designs onto stiff paper. Now she sells the playing cards encased in origami boxes, which, of course, she folds herself.
As advertising and Web manager for Harvard University Press, Arkin designs, writes, and edits promotional materials for books. In her private life, she is a graphic artist, crafts person, rock musician, and arts entrepreneur.
A member of a musical family (her brother is a jazz drummer, her mother plays Scottish fiddle, and her father picked banjo with Bill Monroe and the Bluegrass Boys), Arkin studied classical violin from age 8 through college, but no matter how much she practiced, she felt she still wasn't quite good enough. So she picked up a guitar and taught herself to play, finding it a lot less stressful and more fun.
"After years of feeling really nervous and self-conscious with the violin, it was like, hey, I'm better at playing the guitar than I thought I'd be!"
Now Arkin plays with a rock band called The Operators. Recently, she has beaten back her anxiety and started bringing her fiddle to the band's gigs.
"I'm trying to work the punk rock aesthetic into my violin playing."
Even with a full-time job and a music career (The Operators have two CDs and play regularly at local venues), Arkin still finds time to make things and offer them for sale. With some of her fellow musicians who share her interest in crafts, she has started a crafts fair, Bazaar Bizarre, now in its fifth year, and a store in Somerville called Magpie.
"We sell all handmade crafts, unique things, but with a sensibility that's not too grandma – no geese wearing little bonnets."