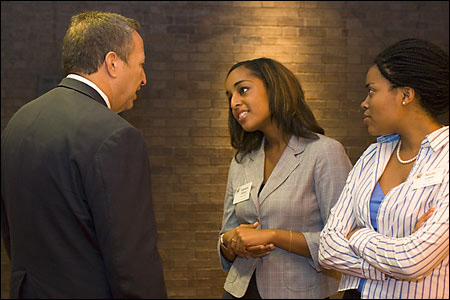 Harvard has made much progress in opening its arms, classrooms, and faculty ranks to people of all racial, ethnic, and economic groups, but much more needs to be done, Harvard President Lawrence H. Summers said Saturday (Oct. 8).
Summers and Senior Vice Provost for Faculty Development and Diversity Evelynn Hammonds spoke to the Association of Black Harvard Women gathered for its 30th anniversary celebration at Harvard Law School's Pound Hall.
The long history of Harvard and Radcliffe on racial equality is not a stellar one, Summers said. The first black woman graduated from the college just 100 years ago and, as recently as the 1940s, top officials were seeking to keep minorities out of the dormitories.
Though much progress has been made since then, Summers said it is critical to Harvard's role as an institution that trains future leaders that it become as diverse – racially, ethnically, and economically – as possible. "It is incumbent on Harvard to seek out the most talented individuals," whoever and wherever they are.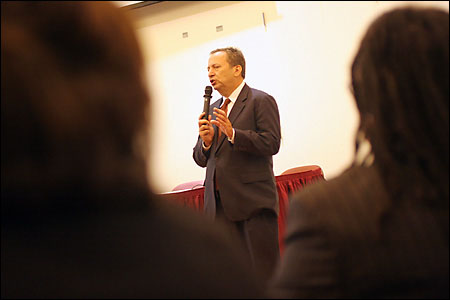 "That is why the way in which we compose our classes, the way in which we compose our faculty is so important," Summers said.
Hammonds, the keynote speaker, updated the participants on the work of the Task Force on Women Faculty. Noting that the task force was one of several committees formed to report on the status of women faculty at Harvard dating back to 1971, she emphasized the importance of creating "structures of accountability."
As a part of that accountability, Hammonds discussed the ongoing work of her new office.
"We will be getting more and better data on our faculty, beginning with a survey of junior faculty this fall. We will support programs to encourage more women and minority students to concentrate in the sciences and engineering while enhancing the research experience of all students in these fields," said Hammonds.
Hammonds concluded her remarks by encouraging the undergraduate participants to play an active role in the diversifying of the faculty.
"The number of African-American women at Harvard is likely to remain low for the next decade in large measure because the pool from which we draw faculty contains so few women from this group," said Hammonds. "If we want the numbers of African-American women faculty to increase at Harvard, then more African-American women at Harvard College have to decide to become academics."