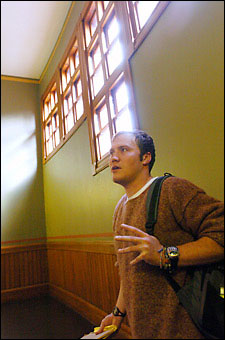 Jackson Troutt considered himself a diehard, a special breed of New Orleanian who scoffs at hurricane warnings and is determined to stay put regardless of weather. But that changed the morning of Aug. 29 when he switched on the radio and heard New Orleans Mayor Ray Nagin urging everyone to evacuate the city immediately.
"When there's a Category 5 hurricane headed straight for the city, I'll leave. I just threw everything I could into my car and got out 20 hours before Katrina hit."
Troutt drove to Memphis, Tenn., where his family lived, and began surfing the Internet for news about the graduate program at the University of New Orleans (UNO) where he had just begun studying for a master's degree in history. That school, he discovered, had temporarily suspended operations, but what he also noticed was that Harvard was offering scholarships to students displaced by Katrina. He applied and was accepted.
Troutt arrived in Cambridge a few days before classes were to begin, excited about studying with some of the most prestigious scholars in East Asian history, his chosen field, but without a place to live. That problem was solved when Harvard Real Estate Services (HRES) found him lodgings in a house the University owns on Mellen Street. Now he and seven other displaced students have found a home there, making it what one of them calls "the hotel New Orleans in exile."
---
Related links:
• University opens heart (and doors) in the wake of devastating Katrina
• Katrina teach-in seeks lessons from disaster
• Diaries of a disaster
• Learn more about what is happening at Harvard regarding the aftermath of Katrina
Deadline for Harvard donation match (up to $100): Oct. 15
---
Eric Martin Scott, a graduate student in arts administration at UNO, now enrolled in the Harvard Extension School's master's program in museum studies, had high praise for HRES, which not only found the students a place to live but furniture as well.
"Everybody's been so awesome," Scott said. "There's a sense of normalcy now. When I first got here, it was like an out-of-body experience."
Scott's journey to Harvard has been a tumultuous one. He evacuated his apartment in New Orleans and went to his mother's house, only to find that an oak tree had fallen on it. He then spent several days helping his mother at the state office of family support where she works – and which had been turned into a temporary shelter for about 200 evacuees, many of them elderly and infirm. He finally drove to Birmingham, Ala., where his sister lives, unsure that he would have enough gas to complete the trip. It was there that he learned about Harvard's offer to accept displaced students.
"I thought, 'What the heck, it won't hurt to apply.' I don't think anyone ever believed Elaine Martin's son would end up at Harvard."
Deborah Centola, a junior at Delgado Community College, left the campus before the floodwaters inundated it and went to her parents' house in Covington, north of Lake Pontchartrain.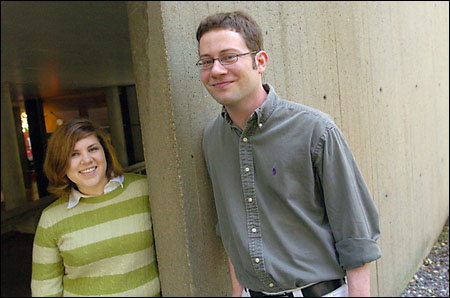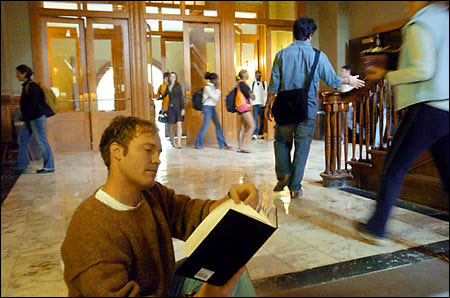 "They didn't get flooded, but it was still pretty scary. Some trees fell on the house," she said.
The storm knocked out their electricity and phone service, so Centola and her mother (her father was in Fort Lauderdale, Fla.) drove to Baton Rouge, La., "just so we could get to a phone and let people know we were alive."
It was while she was in Baton Rouge that Centola made a spur-of-the-moment decision to transfer to Harvard. Massachusetts seemed like a long way from home, but the fact that she had relatives in West Roxbury made the transition easier.
"I was really hesitant to leave New Orleans, but I felt that I would be a fool not to take advantage of this opportunity."
The students are all safe and sound now, and engrossed in their new courses, but for all of them there is still much to worry about, from the plight of family and friends to the fate of the city they love.
Troutt expressed a concern of all three students when he hoped the rebuilt New Orleans would not be a theme-park city focusing exclusively on tourism.
"We're all worried about New Orleans losing its authenticity," he said. "People move to New Orleans because of its spirit. Maybe not all the same people will move back, but hopefully it'll be people with the same spirit."
It is the memory of the city's unique culture – its music, its architecture, its theater scene, its abundance of local characters and celebrities – that motivates the students to think beyond their immediate dislocation and look forward to helping with the rebuilding effort.
"Sometimes, when I talk to my mother and she tells me how bad things are there, I think, maybe I should just give up and go back," said Scott. "But then I think, no, I've got to stay here and work hard and learn as much as I can so I can help rebuild the culture."