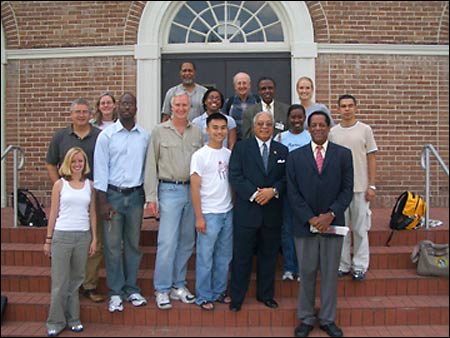 As Hurricane Katrina made landfall and tore through the Southern coastline with now-legendary ferocity, millions of Americans sat in front of their TVs with a familiar feeling of helplessness. "What can I do?" Many reached for their wallets; a few took to the road. S. Allen Counter, who was watching TV in far-away Stockholm, was one of the latter. The director of the Harvard Foundation grabbed the next flight home and started to organize relief efforts.
"I couldn't sit and see those agonizing images and do nothing," Counter said.
Once stateside, Counter, a neurophysiologist at Massachusetts General Hospital and Harvard Medical School, called Leon Tarver, president of Southern University, and Peter Dawson, head of Southern University's health center, to find out how he could best proceed.
---
Related links:
• Katrina continues to stir Harvard community into action
• Doctors take their place on front lines
• Learn more about what is happening at Harvard regarding the aftermath of Katrina
Deadline for Harvard donation match (up to $100): Oct. 15
---
Not surprisingly, health care providers and medical supplies were urgently needed. "They needed medicine – antibiotics, asthma medicine, and antidepressants," Counter said.
Counter called colleagues at institutions around the Boston area, gathering supplies from several sources. The Harvard University Health Services pharmacy not only donated a large amount of medicine, but also appealed to the Cambridge Health Alliance to gather even more, Counter said. Boston Children's Hospital donated pediatric medication, and the Massachusetts Eye and Ear Infirmary was also generous with much-needed medication.
Counter and his assistant Anthony Jacobs packed up 10 cases of supplies and readied them for shipment to New Orleans. With McLean Hospital's Chief of Neurology Bruce Price '72, Counter organized and coordinated a team of six health care providers. He also enlisted the help of four enthusiastic Harvard undergraduates – Nneka Eze '07, Jennifer Green '07, Elijah Hutchinson '06, and Michael Nguyen '08.
On the ground in Baton Rouge, Counter and colleagues met with State Sen. Lydia Jackson '82 and former Louisiana Gov. Buddy Romer '82, who arranged housing for the group. In four days, they provided medical services and supplies to serviced more than 1,000 people in five different evacuation centers.
"One of the most striking scenes I saw," Counter said, "one you don't see on television, was a sanctuary in a Baton Rouge church housing over 400 Vietnamese who were being cared for by one doctor who was also the priest. Few realize what a large Vietnamese population there is in New Orleans.
"Many of the Vietnamese people we saw could not speak English, so we were very pleased to have Michael Nguyen with us to serve as translator."
The team not only provided these families with medicine and care, they also arranged to have Sean T. Brady '89 of Credit Suisse First Boston pay the church's electric bill.
– Robert Mitchell