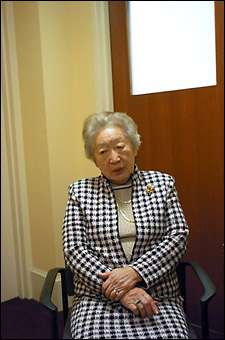 Harvard Law School's Program on Negotiation awarded former United Nations High Commissioner for Refugees Sadako Ogata its Great Negotiator Award for work done on behalf of refugees fleeing conflicts in Iraq, Afghanistan, Africa, and the Balkans.
"All of us at [the Program on Negotiation] are deeply impressed with the type of extraordinary negotiations Sadako Ogata undertook during her tenure at the United Nations," said Program on Negotiation Chair Robert Mnookin. "Her skilled negotiations on behalf of refugees saved many lives, yet are less well understood than many higher-profile diplomatic efforts."
Ogata, who received the award on Thursday (Oct. 20), was the dean of the Faculty of Foreign Studies at Sophia University in Tokyo when her diplomatic career began in 1968. That year, she served on the Japanese delegation to the United Nations General Assembly, going on to serve as minister on the Permanent Mission of Japan to the United Nations in New York from 1976 to 1979.
She began to work with refugees in 1979, when she was asked by the Japanese government to lead the Japanese mission to assist Cambodian refugees. She was elected United Nations High Commissioner for Refugees in 1990, serving three terms ending in 2000.
Ogata spent the day at Harvard, participating in an afternoon panel discussion in the Law School's Ames Courtroom, and in an evening ceremony at the Fogg Art Museum.
Ogata, currently the president of the Japan International Cooperation Agency, said many of the refugee crises she was involved with during the 1990s have been resolved, but added that the Palestinian refugee situation continues. She said it is one of the most serious, long-running, and difficult to resolve.
The Great Negotiator Award was created six years ago to recognize individuals whose achievements in the field of negotiation and dispute resolution have had lasting impacts. Prior recipients include Richard Holbrooke, former U.S. ambassador to the United Nations; Stuart Eizenstat, former U.S. ambassador to the European Union; Ambassador Lakhdar Brahimi, the United Nations special envoy for Afghanistan; Charlene Barshefsky, U.S. trade representative for President Bill Clinton; and former U.S. Sen. George Mitchell, for his work in Northern Ireland.