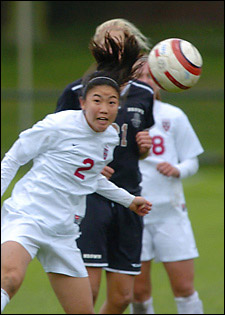 Harvard goalkeeper Katie Shields '06 seems to take her last name to heart. Over the Crimson's past 13 games, the senior has been responsible for 10 shutouts, win or draw, to help the women's soccer team to a 7-3-3 record (1-2-1 Ivy). In her past two outings against Brown and Holy Cross, she tied, and then surpassed, Harvard's single-season record for shutouts – a record dating back to 1987.
All told, Shields has allowed just five goals on the season, and now owns a .37 goals-against average and a .925 save percentage, ranking the Crimson keeper among the top netminders in the country. The Cambridge squad's defense, meanwhile, is ranked second in the nation in shutout percentage.
This past Sunday (Oct. 16) on a soggy Ohiri Field, Shields denied five shots – including a point-blank stop in the second overtime – to preserve a scoreless double OT tie against Brown. Most recently against host Holy Cross on Tuesday (Oct. 18), Shields enjoyed a bit of a breather between the pipes thanks largely to Harvard's heavy offensive pressure. Shields made three saves in the 3-0 win, which saw the Crimson outshoot the Crusaders 11 to 2 in the first period alone (16 to 5 for the game).
Freshman midfielder Erin Wylie paced the Crimson with a pair of goals to collect her fifth tally of the season. At the 14:12 mark of the opening period, Wylie connected from 90 feet out to put Harvard on top, 1-0. After the break – and a mere 30 seconds into the action – the first-year accepted a fed in the box from classmate Rachael Lau prior to notching her second goal of the afternoon. Zoe Sarnak '09 added the nail in the Crusader's coffin late in the second period. The goal marked her first collegiate tally.
Next up, Harvard plays host to Princeton (3-6-2; 1-2-0 Ivy) on Saturday (Oct. 22) at 2 p.m. Shields, Wylie, and company are currently vying for fourth-place security in the Ivies. The Tigers, meanwhile, are tied for seventh place. Visit http://www.gocrimson.com for the latest scores and updates.