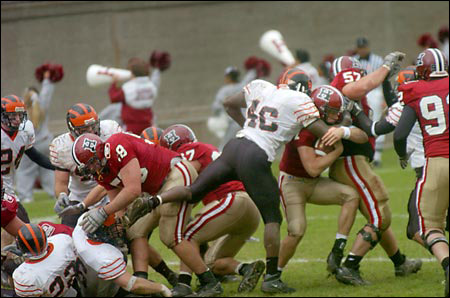 A back-and-forth affair marked by four lead swaps, this past Saturday's (Oct. 22) Ivy League showdown against Princeton offered little in the way of R&R for the host Harvard football team. Or, for that matter, much time to celebrate.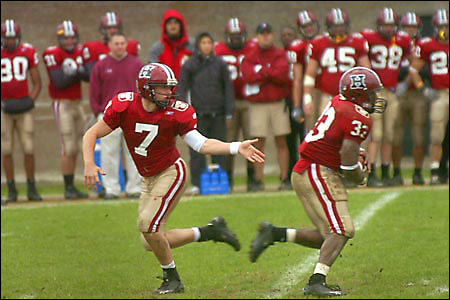 Less than a minute after the Crimson forged a 24-20 lead midway through the fourth quarter on a high-arching, 52-yard touchdown lob from junior Liam O'Hagan to Ryan Tyler '06, Tiger special teamer Jay McCareins returned the ensuing kickoff 93 whopping yards for a score of his own. Harvard never recovered from the shocking play – the first of its kind allowed by the Crimson since the 1995 season – as Princeton held on for the 27-24 victory.
The loss ended a nine-year win streak for Harvard over the black and orange, and drops the home team to 1-2 in Ivy action (3-3 overall). The Tigers, meanwhile, improve to 2-1 (4-2 overall).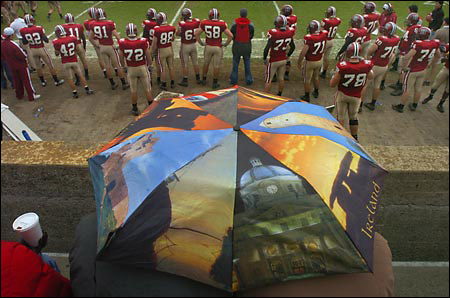 Despite the losing effort, junior running back Clifton Dawson further bolstered his campaign to unseat Chris Menick '00 as Harvard's career-rushing leader. Against Princeton, Dawson amassed 203 yards on his way to two touchdowns, moving the junior into second place on the school's all-time chart in rushing with 3,232. He needs just 98 more to topple Menick's record, and remains on pace to become the first 5,000-yard rusher in Ivy League history.
For the second straight week, O'Hagan was without a turnover. The junior playcaller completed 11 of 16 passes for 183 yards, and successfully managed half of Harvard's 14 third-down conversions.
Currently tied for fifth place in the Ancient Eight with Dartmouth and Cornell, the Crimson host the Big Green (2-4; 1-2 Ivy) this Saturday (Oct. 29) at 12:30 p.m. Visit http://www.gocrimson.com for the latest scores and Harvard sports information.