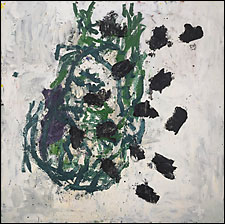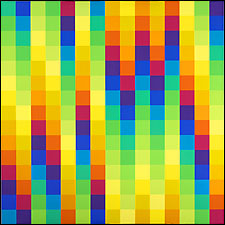 'Triangle,' 1991, by Georg Baselitz (left), and '15 Serial Rows of Equal Amounts of Color with Bright Emphasis,' 1958/1987, by Richard Paul Lohse.

A reproduction could never do justice to Rudolf de Crignis' 1999 painting "Untitled." The most any photographic process could possibly show would be a blue square. But walk up close to the painting and you realize there is more to it than that. The Swiss-born painter has covered his canvas with about 40 layers of color, the coats of ultramarine blue alternating with cinnabar green. The result is a subtly pulsating surface that seems to dissolve into shifting depths like the sky on a cloudless day.
De Crignis' mesmerizing square is one of a number of paintings and sculptures included in a new exhibition at the Busch-Reisinger Museum titled "Stratification: An installation of works since 1960." The show was organized by Celka Straughn, the 2004-2006 Stefan Engelhorn Curatorial Intern at the Busch-Reisinger and a Ph.D. candidate in art history at the University of Chicago.
Each of these works embodies the idea of layering. In de Crignis' work, each layer masks the one below it, relying on light to bring to the eye the suggestion of what lies hidden. German artist Sigmar Polke has used layering to very different effect in "Untitled (Abstract Red Transparent Picture with Arrow Pointing Upward) (1990)."
In this work Polke gives the layers of paint maximum exposure by applying them to a material that looks like glass but is actually polyester fabric treated with alkyd resin. The painting is meant to be viewed from either side, like a stained glass window, although the limitations of the gallery space did not allow it to be displayed in this way.
Polke, known for his playfulness as well as for his experimentation with unusual materials, has built up layer upon layer of abstract shapes out of pigments that drip, spatter, and bleed into one another. The result is a painting that begs to be explored at length and at close range, that seems to reveal more detail the more closely one peers into it, like the surface of an alien planet enveloped by an atmosphere of swirling gases.
---
'Stratification: An Installation of Works Since 1960' is on exhibit through Feb. 26 at the Busch-Reisinger Museum, 32 Oxford St. The museum is open from 10 a.m. to 5 p.m. Monday-Saturday and 1 to 5 p.m. Sunday. Admission is $7.50; $6 for senior citizens and students; free for those 18 and under.
---
A large abstract painting by German artist Gerhard Richter, "Said" (1983), is less complex than Polke's painting, but equals or surpasses it in visual impact. On a field of bright green, Richter has overlaid a series of red bars in great slashing strokes, then covered those with a smeared and splattered veil of brilliant yellow. For Richter, the juxtaposition of intense color has a philosophical or political significance. He has described his abstractions "as images of a possible form of social relations … [that] bring together, in a living and viable way, the most different and the most contradictory elements in the greatest possible freedom."
Georg Baselitz, another important German artist, is represented here by a large painting titled "Triangle" (1991). Baselitz is known for using representational elements, often the human figure, but flipping them to defamiliarize the image and emphasize its formal qualities.
In this painting he has painted an upside-down human head in thick green brushstrokes. It floats over a field of white, which partially conceals layers of underpainting. A series of black splotches suggesting the triangle of the title covers both face and background like a primitive cancellation mark. On at least one of these splotches, the imprint of the artist's shoe tread can be seen, pulling away layers of paint to reveal colors underneath. The impression Baselitz creates is of layers accumulated accidentally, without human intention, like the tattered remains of a billboard or a defaced and repainted wall.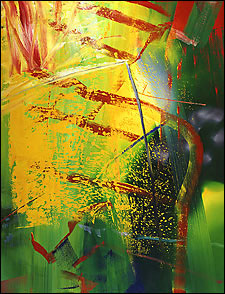 The piece from which the exhibition takes its name, "Stratification 21a" (1967) by German artist Thomas Lenk, carries through the idea of layering in a three-dimensional work. The piece is constructed of flat squares with rounded corners stacked in such a way as to create an illusion of depth, or rather more depth than the piece actually has. Lenk has said that the idea for this and other pieces, both sculpture and graphic works, came to him as he was playing with beer coasters in a pub while waiting for his wife to give birth.
The exhibition, which also includes works by Richard Paul Lohse and Max Bill, was drawn from the Busch-Reisinger's own collection. It will be on view until Feb. 26 and provides an excellent opportunity to become acquainted with the work of contemporary northern European artists and with the themes that unite them.
"I wanted to create dialogues among the works," Straughn said. "While I was working on the exhibition I became interested in the joy of dealing with art objects, and I wanted to encourage viewers to feel that as well."