Men's soccer rolled to its third straight win of the season this past Sunday (Sept. 25) blanking cross-state rival University of Massachusetts, Amherst, 2-0, on the road. And though the Ivy season has yet to commence, this weekend's victory – which came two days after Harvard's 2-1 decision over visiting Fairfield on Sept. 23 – places the Crimson a game behind frontrunner Penn in overall play at 4-1-1.
Seven minutes into Sunday's game at UMass, sophomore Jeremy Tchou notched his first career goal after beating Minuteman keeper Zack Simmons on a low, firm shot from 10 yards out. The Crimson tacked on an insurance goal at the 76:14 mark of the second half when senior Nicholas Tornaritis, accepting a pass from his brother and classmate Anthony, sent the ball to the corner of the net for the eventual 2-0 final.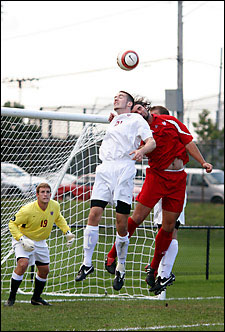 Harvard put Simmons to the test all afternoon, firing 11 shots on goal. Crimson keeper Ryan Johnson '06, meanwhile, made three saves in the game to earn his third shutout of the season.
Opposite Fairfield on Sept. 23, junior forward Charles Altchek tallied two goals in the opening half off feeds from Brian Charnock '06 and Nicholas Tornaritis at 22:33 and 31:10, respectively, to collect his sixth goal of the young season.
Less than two minutes after Altchek's second goal, the visiting Stags cut the lead in half when Fairfield's leading producer, mid-fielder Vasilis Androutsos, one-timed a shot past Johnson. Down 2-1 entering the second half, Fairfield repeatedly threatened to tie on a series of breakaways and near-goal opportunities, but Harvard withstood the late-game onslaught (the Stags attempted seven shots in the latter half alone) to stay unbeaten at home.
Next up, the Crimson travel to New Haven, Conn., this Saturday (Oct. 1) to kick off their Ivy season against Yale. Game time is 7 p.m. Visit http://www.gocrimson.com for scores and highlights.