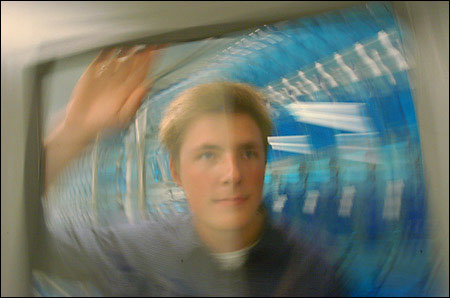 Working with zebrafish, growth factors, and chicken embryos, Harvard undergraduates got a chance this summer to learn and work in laboratories of the Harvard Stem Cell Institute during its first summer internship program.
Stem Cell Institute Executive Director Charles Jennings said the program is part of the institute's efforts to fulfill its educational mission and hopefully inspire future researchers to consider a career investigating stem cells.
"The best way to learn about it is to do it, to go and work in the lab," Jennings said. "The future of stem cell research depends on young people. We hope some of these people will go into stem cell research as a career."
Program Coordinator Heather Fleming, a postdoctoral fellow at Massachusetts General Hospital, said the program hosted 26 students, many of whom were between their sophomore and junior years. Though many were science concentrators, they came from a variety of backgrounds for the 10-week program.
"The students worked full-time for 10 weeks in a member lab of the Harvard Stem Cell Institute to expose them to work in a wet lab," Fleming said. "We want to give them hands-on experience in a lab and give them exposure to stem cell research as a larger field."
The program, financed through private contributions, coupled laboratory work at the institute's member laboratories across the University with a weekly seminar series that brought the interns together to listen to talks on a wide variety of subjects related to stem cell science. The students were paid a stipend to cover living costs over the summer.
The seminar series featured talks on everything from career development to patent law to science journalism to advocacy for stem cell research.
"Not only did I gain firsthand experience and knowledge about some of the projects going on in [Thomas Dudley Cabot Professor of the Natural Sciences] Douglas Melton's lab, which have been in the news lately, but I also got a glimpse into all different aspects of stem cell research, including journalism, marketing, and advocacy, as well as current research that is being conducted in a wide variety of other labs," said biology concentrator Francis Kim, whose summer research involved manipulating genes involved in insulin production in mouse and chick embryos.
Jennings said the program was designed to provide broad exposure to stem cells, touching on the ethical and social aspects as well as the scientific. Fleming said the broad base was important because the students would likely face questions from family and friends once they learned that the students were involved in stem cell research.
"We were thinking of the students as ambassadors for stem cell research," Fleming said.
The students were invited to complete an anonymous questionnaire at the end of the program, and their responses indicate that the program was very successful, Jennings said. Many of the students indicated that their experience as an intern had confirmed or strengthened their commitment to a research career. A few, however, said that though it was a great learning experience, lab research may not be for them.
"I think that is vital," Fleming said. "Better to learn now than to start graduate school and learn after 10 weeks [that you don't like research]."
Students were paired with a postdoctoral fellow in each laboratory. The fellow helped the students get started, assessed each student's skills, and let them proceed with an appropriate level of independence.
Given the program's success, the institute plans to repeat it in future years, with some changes in response to student feedback. Applications for next year's internships will be sent out earlier and organizers will integrate more group activities earlier in the 10-week program to help foster a greater sense of community among the interns. It may also be opened to students from other institutions.
Zachary Kostun, a biochemical sciences concentrator who worked in the lab of Instructor in Medicine Alan Davidson, gave the program high marks. Kostun spent the summer studying a gene responsible for acute leukemia in zebrafish. The experience, he said, may prompt him to seek a career in research, rather than medicine.
Susan Maya, also a biochemical sciences concentrator, worked in Assistant Professor of Medicine Rohit Kulkarni's laboratory at the Joslin Diabetes Center, where she tested growth factors on insulin-producing cells called beta cells.
Maya said that over the 10 weeks she conducted a variety of experiments that covered a range of procedures used in the lab.
"It helped me to understand stem cell research in the context of biomedical research as a whole," said Maya, who is among a group of students, including Kim, organizing a Harvard chapter of the National Student Society for Stem Cell Research. "Before this summer, I saw stem cell research as a large unknown, but now I see it as a technique which can be integrated into existing methods to create novel cures for diseases."