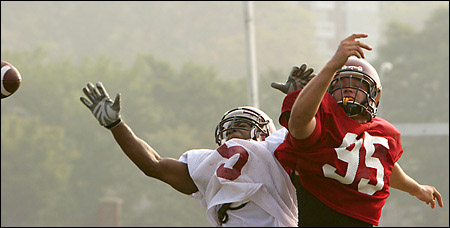 A stubborn Harvard football team made do without its marquee player from last season – Ivy League Player of the Year Ryan Fitzpatrick '05 – to earn a come-from-behind win in their season opener opposite host Holy Cross this past Saturday afternoon (Sept. 17). The 31-21 victory extended the Crimson's winning ways to a dozen games over the past three seasons, momentarily putting to rest any concerns over Fitzpatrick's June departure.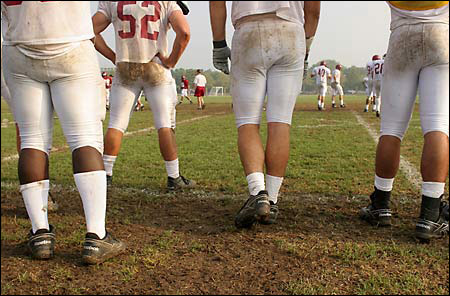 Throughout the off-season and heading into Saturday's game, it was the quarterback question – not just who would start (Tulane transfer Richard Irvin '08 or Liam O'Hagan '08, who made just three relief appearances for the Crimson last year), but what he could do, whoever he is – that most bedeviled the reigning Ivy champs.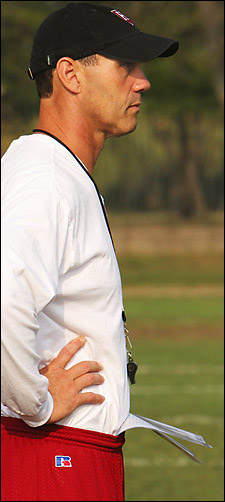 In Worcester, Irvin and O'Hagan both made strong cases for earning the slot as Fitzpatrick's successor, skillfully combining for 301 passing yards on 20 for 32 aerial attempts. Yet it was O'Hagan, coming into the game midway through the first quarter after Irvin's turnover by way of interception, who generated a sigh of relief from the Harvard sideline. After all, the 6-foot-2-inch sophomore who hadn't thrown a pass in collegiate action prior to Saturday's game connected for two touchdowns on 258 passing yards against Holy Cross, while scrambling for 63 yards and a TD. But O'Hagan – who received the go-ahead from 12-year head coach Tim Murphy to start against Brown (1-0; 0-0 Ivy) this weekend – also threw an interception.
So that's the good and the bad. As for the ugly, Harvard committed 13 penalties (to the Crusaders' six) for a loss of 110 yards. And worse. Following a Harvard facemask call in the second quarter, sophomore kicker Matt Schindel's point-after attempt was called back. The subsequent re-do missed the uprights to give Harvard a not-quite-comfortable 20-14 edge.
Fortunately, the Harvard defense, which limited the Crusaders to just 68 yards on the afternoon, saved its best for the final 15 minutes. Suddenly down 21-20 heading into the fourth quarter, the Crimson – led by freshmen Andrew Berry and Eric Schultz at cornerback and linebacker, respectively – recovered a fumble, thwarted a string of pass attempts, and denied a third-and-one situation to effectively shut down the home team. The Harvard offensive, meanwhile, clicked big-time in the final 10 minutes, scoring 11 unanswered points, including a 48-yard TD pass to senior receiver Ryan Tyler from the newly minted starter O'Hagan. Clifton Dawson '07 was sturdy as ever on the ground for Harvard, picking up 153 of Harvard's 219 rushing yards on the afternoon.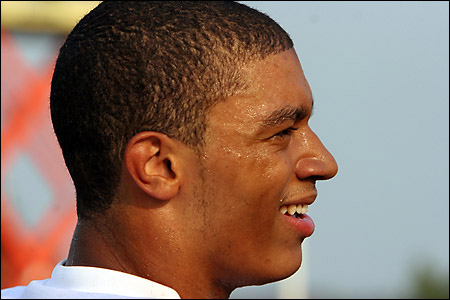 Harvard hosts the Bears of Brown at 1 p.m. this Saturday (Sept. 24). Check http://www.gocrimson.com for updates.