The mishandling of the Hurricane Katrina response was as much a failure of emergency systems as it was of leadership and may have been avoided had a new management system, originally created to fight forest fires, been fully implemented nationally, Kennedy School experts said Friday (Sept. 23).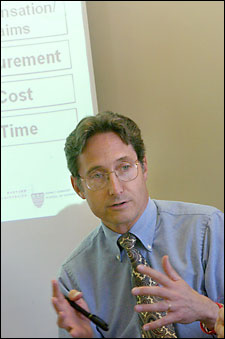 Taubman Center for State and Local Government Director Arnold Howitt said the Katrina disaster differed from what he called "everyday emergencies" in that it presented numerous unexpected challenges. Howitt and Herman B. "Dutch" Leonard, the George F. Baker Jr. Professor of Public Management and professor of business administration, agreed that the Forest Service's Incident Management System was designed to handle just such novel emergencies and changing situations.
The two analyzed the Katrina response during a roundtable event, "Emergency Preparedness: Katrina and New Orleans and Beyond," at the John F. Kennedy School of Government.
Unlike a typical house fire, a car accident, or a violent crime, which emergency personnel are trained and equipped to deal with, Katrina and other similar disasters present a range of unexpected conditions which, if not met by innovative thinking and a flexible response, can result in responders being inefficient or even making matters worse.
Howitt gave the example of police and firefighters responding to a bioterror event, where their training to charge into a situation could lead to their deaths, or spreading infection further.
"[Such crises have] significant elements of novelty. Pre-determined actions may be inadequate and possibly counter-productive," Howitt said.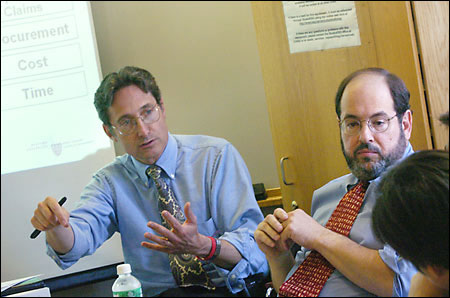 To deal with such crises, managers have to have a system that can function effectively despite the involvement of several different agencies, that can analyze new situations and respond to them, that can plan for needs in the field and meet those needs, and that can mobilize personnel trained in the field tasks required of them.
The Forest Service's Incident Management System has been recognized as such a system. Developed over the past 35 years to merge disparate firefighting units from around the country to battle forest fires in the West, the system has gained increasing notice, Howitt said.
The system has been adopted and put in place in a variety of settings, from urban firehouses to hospitals, and even has been mandated to be adopted by the Department of Homeland Security.
The system's success prompted the assignment of the Forest Service to the recovery effort after the space shuttle Columbia broke up re-entering the atmosphere in 2003. Howitt said it was the Forest Service's experience with the system, not any jurisdictional or operational expertise at such a unique situation that prompted the service being put in charge.
---
There is still much to learn from Hurricane Katrina, and further analysis will take years. Among upcoming discussions at Harvard about the disaster, its aftermath, and what to do in the future is the 'Harvard Teach-In on Hurricane Katrina,' sponsored by the Center for Health and Human Rights and the School of Public Health. All members of the Harvard community are welcome to attend and talk. The teach-in will be held at the Askwith Forum, Longfellow Hall, 13 Appian Way, from noon until 4 p.m. Details here.
Also coming up, on Oct. 7, Lincoln Chen, director of the Global Equity Initiative at Harvard University, will speak on 'The Tsunami and Katrina: Unmasking Problems and Opportunities.' The event is sponsored by the Asia Center and takes place at the Concourse Seminar Room 050, CGIS South, Asia Center, 1730 Cambridge St., at 12:30 p.m. Call (617) 496-6273 for more information.
---
The system allows for clear division of labor and clear chains of responsibility; it encourages innovation and offers standard organization, terminology, and process that lets different entities familiar with the system cooperate effectively, Howitt said.
Organizationally, the system breaks the response effort into four major areas under the top level of command. Those involved in operations oversee what's happening that day in the field. Those involved with planning look ahead and determine what actions are needed in the future. Those handling logistics make sure the needed supplies are in place, and financial administrators ensure that everything gets paid for.
"When somebody sends 5,000 people in the field, someone has to make sure the next day that 5,000 lunches are in the field," Leonard said.
Though a national version of the system was mandated in the Homeland Security Act of 2002, implementation has been spotty and could take as long as a decade to be effective, Howitt said.
That it didn't work in the Katrina response was evident to Leonard, who visited the storm-ravaged area.
"This was not a failure to anticipate conditions, it was a failure to react to conditions that people had predicted perfectly," Leonard said.
His own observations led him to believe that the closer an agency was to fully implementing such a system, the smoother its response was to Katrina, Leonard said.
Leonard spent time with the New Orleans Fire Department, which was struggling with flooded firehouses and equipment, as well as depleted manpower because some firefighters didn't show up for work.
The storm's impact and the subsequent demands on the department left it, five days after the storm, close to total collapse, Leonard said. That's when the New York City Fire Department arrived at the scene with 500 firefighters and a truck that New Orleans had donated after 9/11.
Trained in the Incident Management System, the New York firefighters, under the New Orleans fire leadership, set up teams to run operations, to plan for future needs, and to get supplies to the field. They took care of housing and feeding their crews, and positioned crews as far into the city as they could during the day recalling them at night due to security concerns.
"They invented the task of re-taking a city, from a fire control standpoint," Leonard said.
Another factor in the Forest Service system's success is its unified command and control, Leonard said, where representatives of all the interested agencies work together to determine what actions are needed and coordinate them.
An important feature of this system, Leonard said, is what's called the "red card" system. That system ranks field personnel by their experience and expertise in handling fires and trumps everyday rank when handling an emergency. What that means, Leonard said, is that someone with experience handling fires and managing fire crews in the field is in charge during an emergency, even if more senior but less experienced people are on hand.
Neither the unified command and control nor the "red card" system were evident in the fractured governmental response after Katrina, Leonard said. At FEMA (Federal Emergency Management Agency) headquarters, the person in charge was the person of highest rank, regardless of experience.
"I think there are enormous and interesting lessons that are going to come out of this," Leonard said.