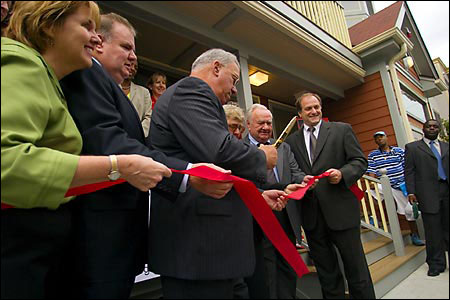 Fifty new units of affordable housing and the innovative partnership that helped make the development happen were the subject of celebration on Friday (Sept. 23) as the ribbon was cut on the Brian J. Honan Apartments at 33 Everett St. in Allston-Brighton.
The new apartment complex recaptures land formerly occupied by Legal Seafood's fish processing plant and extends the border of a nearby residential community. Fully occupied by Boston-area families, the apartments were named in honor of Brian J. Honan, the late city councilor from Allston-Brighton who was the development's staunch supporter.
With the vibrant colors of a community playground in the distance and the stoops of new apartments on either side of him, Boston Mayor Thomas M. Menino spoke alongside a diverse cast of politicians, housing activists, Harvard representatives, and members of the Honan family.
"These 50 units represent the first new affordable housing in Allston-Brighton since the 1980s," said Menino. "By working together we will continue to make progress to keep Boston a city that is open and affordable to everyone."
Menino was among a list of speakers who remembered Honan for his dedication to public service and his commitment to residents of Allston-Brighton, and lauded the collective effort that helped raise the walls for families.
The project was built by the Allston-Brighton CDC. Harvard gave an early grant of $2.8 million, helping the project to get off the ground, and the city of Boston provided $2 million in support. Funding also came from the Bank of America and a number of other sources.
"I'm proud to have Harvard as our partner in the development of housing that working families can afford," said Menino.
"Brian Honan understood deep in his heart the sense of joy that comes to a family when they have a place to call home," added Kevin McCluskey, Harvard's director of community relations for Boston.