Harvard Graduate School of Education (HGSE) Professor Charles V. Willie received the Career of Distinguished Scholarship Award from the American Sociological Association (ASA). The award was presented to Willie, the Charles William Eliot Professor of Education, at the ASA annual meeting in Philadelphia on Aug. 14.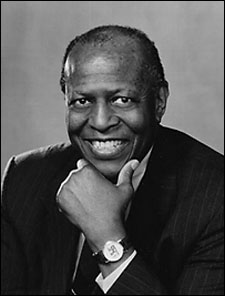 "I am especially pleased that the American Sociological Association is honoring the career of a person who took the road less traveled," said Willie in his acceptance speech. "As an applied sociologist who has taught sociology in a faculty of arts and sciences, also in two medical schools, one school of education, and in a theological seminary, my research has been guided by theories and methods that contribute both to discovery and application of knowledge. As I rapidly approach the 78th anniversary of my birth, it is a wonderful experience to hear one's colleagues say 'Well done, good and faithful servant.'"
The award is one of the highest honors offered to ASA members. It was given in recognition of Willie's lifetime commitment to the profession of sociology and his cumulative work that has contributed significantly to the advancement of the discipline.
"This award is a tremendous and well-deserved honor for Professor Willie," said HGSE Acting Dean Kathleen McCartney. "Charles played a leading role at a crucial time in our nation's educational history. His work on desegregation in many of our nation's largest cities is a legacy that is felt in schools across the United States each and every day."
Willie's research, teaching, and practice focuses on education planning and school desegregation, the structure and process of family life, community organization, race and ethnic relations, and public health. He has been associated with the Ed School for 31 years, having been appointed as a professor of education and urban studies in 1974. Though he has been a professor emeritus since 1999, Willie still teaches one course each year. "Community Power, Decision Making and Education" deals with grassroots action to solve community problems, especially educational issues.
Willie played a major role in the school desegregation movement, and served as a consultant, expert witness, and court-appointed master in major school desegregation cases in cities such as Boston; Hartford, Conn.; Dallas; Denver; Houston; Little Rock, Ark.; Milwaukee, Wis.; San Jose, Calif.; Seattle; and St. Louis.
He is the past vice president of the American Sociological Association and is a former president of the Easter Sociological Society. Willie served on the President's Commission on Mental Health in the Carter administration and has been a member of the Board of Directors of the Social Science Research Council.