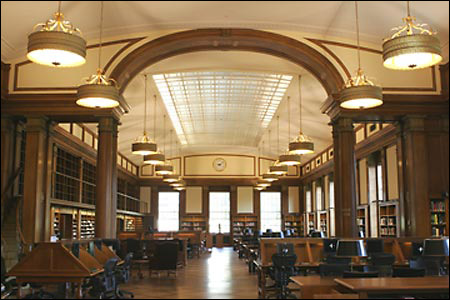 Harvard Business School (HBS) formally reopened Baker Library – the historic building capped with a bell tower that has been the symbol of the School for over 75 years – marking the conclusion of an extensive two-year, $53.4 million renovation and expansion project.
"Baker Library, the finest facility of its kind, is both the physical and intellectual center of Harvard Business School," said Acting Dean Jay O. Light at the reopening ceremony Monday (Sept. 19). "In restoring and updating the building, we have strengthened its role as a forum for the exchange of ideas while providing an ideal setting for creating the library of the future."
Home to one of the world's largest and most renowned business libraries, Baker Library has been expanded from 130,000 to 168,000 square feet to accommodate a range of facilities, activities, and services.
"Although Baker has retained its traditional look throughout, it has also been updated to embrace the 21st century," said Mary Lee Kennedy, the library's executive director.
Among the innovative features of the revitalized building is the Exchange, a gathering place on the first floor for students, faculty, and staff, and an array of 42-inch wall-mounted screens showing content from such sources as Bloomberg, CNN News, Thompson StreetEvents, and CNBC. Computers in the area provide access to all of the databases available to the community via the Baker Library Web site (http://www.library.hbs.edu).
Renovations to Baker Library – which housed the world's first collection of business materials as well as the School's original classrooms when it first opened in 1927 – have restored the building's distinctive north façade, which faces the Charles River. Today, the library's resources span all aspects of management, embracing more than 600,000 printed volumes and thousands of periodicals as well as extensive collections of working papers, annual reports, microform items, archives and manuscripts, and photographs.
The library's extensive general collection of books will be shelved for the first time in environmentally controlled stacks, located on two new underground floors. The new de Gaspé Beaubien Reading Room is an area where one of the world's premier collections of rare business books and documents dating from the 15th century is made available for research. A state-of-the-art conservation lab has been constructed to preserve these materials.
The main lobby on the north side of the building, now restored to pristine condition, includes exhibit space to engage both the community and visitors in the lessons and legacies of business history, the history of the School, and current faculty research. A newly constructed south entrance faces Allston-Brighton.
In addition to offices and meeting areas for library and academic support staff, the expanded building also has 67 faculty offices and a new Faculty Commons that includes three research seminar rooms and a general meeting area for faculty and doctoral students. Funding for the restoration and expansion was provided primarily through donations from HBS alumni.