The Joan Shorenstein Center on the Press, Politics and Public Policy located at Harvard's Kennedy School of Government recently announced that Judy Woodruff will be a visiting fellow during the fall semester.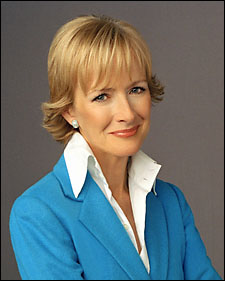 "Judy Woodruff is one of the most distinguished journalists in America, and her knowledge of the press and politics is second to none," said Alex S. Jones, the center's director. "She comes to Harvard eager to share her knowledge and experience, and we are honored to have her with us at the Shorenstein Center."
Woodruff will lead a study group for students on contemporary issues in journalism. "This is a really exciting and challenging opportunity," said Woodruff. "I know I will be learning at the same time I am sharing my experiences with students."
Broadcast journalist Judy Woodruff has covered politics and breaking news for over three decades at NBC, PBS, and CNN.
She left CNN full time in June 2005 to pursue longer-form journalism opportunities, and she will continue as a consultant and occasional contributor to that network.
---
'A Conversation with Judy Woodruff,' moderated by Alex S. Jones, will take place in the Malkin Penthouse, fourth floor, Littauer Building, KSG, at 12:30 pm. on Monday (Sept. 19).
---
For 12 years, Woodruff served as anchor and senior correspondent for CNN, anchoring the weekday political program "Inside Politics." She also played a major role in the network's political coverage.
At PBS from 1984 to 1993, she was the chief Washington correspondent for "The MacNeil/Lehrer NewsHour." From 1984 to 1990, she also anchored PBS's weekly documentary series "Frontline with Judy Woodruff." At NBC News, Woodruff served as a White House correspondent from 1977 to 1982 and as chief Washington correspondent for the "Today" show from 1982 to 1983. She is the author of "This Is Judy Woodruff at the White House."
Woodruff is a founding co-chair of the International Women's Media Foundation, and serves on the board of trustees of the Freedom Forum and the Urban Institute. She is a trustee emerita at her alma mater, Duke University, and serves on the visiting committee for the Kennedy School.