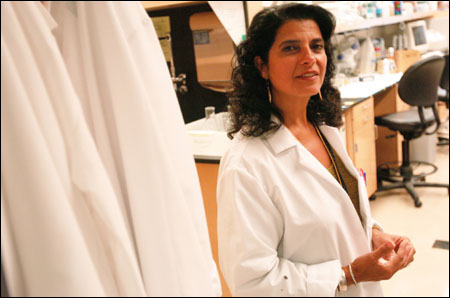 A simple urine test holds promise for detecting both life-threatening birthmarks and the presence of cancer. Out-of-control growth of both is tied to proteins that reveal themselves in urine.
Although not yet approved by the Food and Drug Administration, results from such tests are already being used to guide treatment of children with disfiguring birthmarks and adults with cancer. Urine tests, now given to all people as part of every physical, might someday provide doctors with valuable information difficult to obtain by other means.
"Many birthmarks, caused by abnormal growth of blood or lymphatic vessels, go away without treatment," notes Marsha Moses, associate professor of surgery at Harvard Medical School and Children's Hospital Boston. "But some grow frightfully big before they start to regress – big enough to kill a child. Also, some birthmarks grow unseen, inside the body. We can look at the urine of these children and predict the extent and activity of the abnormalities. Such a capability gives physicians data they can use to treat these patients more effectively."
The same is true for cancer. Last year, Moses and her colleagues announced discovery of ADAM 12, a protein found in the urine of breast cancer patients. Increasing amounts of this protein in urine signal that the cancer is getting worse.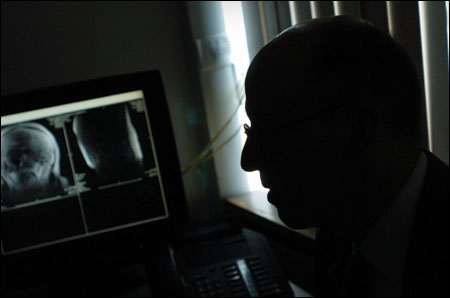 In both birthmarks and cancer tumors, treatments that decrease levels of these compounds mean patients are getting better.
"The beauty of testing for urinary markers, especially in younger patients, is that it's not invasive," Moses points out. "These diseases expose sick kids to so much invasive poking and prodding that any information physicians can get without this is a good thing."
Moses' lab boasts one of, if not the, world's largest bank of urine samples of cancer patients. But Moses urges people to hold their urine. "We receive unsolicited samples from all over the country," she says, "But we can't do anything with them because our tests have not yet been approved for general use."
A test is tested
The urinary markers are known as matrix metalloproteinases, thankfully shortened to MMPs. In 1998, Moses and colleagues published a report showing that growth of blood vessels requires MMPs (see May 7, 1998, Gazette). She noted that the more MMPs found in cancer patients' urine, the more vessels were being attracted to their tumors, and the bigger and faster those tumors grow. At present, 30 to 40 different drugs are under development to treat tumors by blocking such growth.
In the medical business, blood-vessel growth is known as "angiogenesis," and its anti-drugs are called angiogenesis inhibitors. One of them, Avastin, has been approved for treatment of colon cancer in 28 countries including the United States. It is also being tested on patients with cancers of the kidney, breast, and ovaries.
Jennifer Marler, a former research fellow at Children's Hospital Boston, pointed out that growth of birthmarks, like blood-vessel tumors, responds to treatment with anti-angiogenesis drugs. She suggested to Moses that urine samples might provide a new way to help determine which troubling birthmarks will respond to these drugs.
Moses and Marler put together a research team that included Steven Fishman, a surgeon at Children's Hospital with extensive experience in treating disfiguring and life-threatening birthmarks. The group, including members of Children's vaunted Vascular Anomalies Program, tested the urine of 217 children with such birthmarks and compared it with that of 74 healthy kids of the same age. In the July issue of the medical journal Pediatrics, the team reports that more than half of patients with blood-vessel tumors showed high levels of MMPs. In addition, 41 percent of those with vascular malformations – twisted, tangled wads of blood vessels that grow uncontrollably – had abnormally high levels of the proteins.
This study suggests that angiogenesis also plays a key role in the growth of vascular malfunctions. It opens the door for treating them, as well as the tumors, with angiogenesis-blocking drugs.
Fishman and his colleagues then successfully treated two young children in the study with drugs and surgery. Afterward, MMPs could no longer be detected in their urine.
Dipsticks for diseases
Fishman's team evaluates and/or treats more than 1,000 patients a year from all over the world. He has begun giving 11 young patients an anti-angiogenesis drug that has been approved for treating adults with cancer. Nine of the children have not responded to, or cannot be given, other available treatments. Two others received the drug under compassionate-use rules, which means that surgeons have decided nothing else will help them.
These tests will mainly determine whether the anti-MMP drugs are safe. If results are positive, longer trials with large numbers of children will follow. Urine mining is also being tested by Moses on a number of different cancers, including very aggressive brain cancers known as glioblastomas.
Moses is pleased with what has been demonstrated about the potential of urine testing so far. But she knows that a lot more research needs to be done before children with threatening birthmarks will be tested by their doctors on a routine basis.
And Moses loves to think about what she calls "the big global picture." Besides MMPs associated with birthmarks and breast cancer, others have been identified for detecting and monitoring prostate and ovarian cancer. She sees these as part of urine "dipstick" checks that could be part of annual physicals some day. Compounds (antibodies) on dipsticks, which detect various disease markers, will be quickly analyzed. "The results will not only help physicians find cancers, but predict when they will spread, or come back again after treatment," she says. "And all from just a few drops of urine."