Ever since its invention more than a century and a half ago, photography has proved difficult to classify. Does it deserve to be grouped with the traditional arts of painting and sculpture, or is it simply a technique for recording visual facts?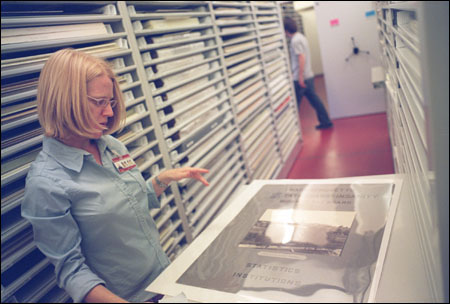 Its first manifestation, the daguerreotype, elicited ecstatic responses even from those who might have felt threatened by the new technique. Samuel F.B. Morse, a painter as well as an inventor, called the daguerreotype "Rembrandt perfected," and the artist Paul Delaroche declared, "From today, painting is dead."
But by the early 20th century, photography had become so ubiquitous in the form of magazine and newspaper illustrations, advertisements, studio portraiture – as well as floods of family snapshots – that this once-miraculous process had subsided to a background flicker of modern life, a continuous supply of images as much taken for granted as running water or electricity. Against this overwhelming familiarization, early 20th century photographers like Alfred Stieglitz and Edward Steichen were obliged to wage a determined campaign to win acceptance for photography as a legitimate art.
Even today, the criteria by which photography's various branches define themselves remain in flux. An exhibition currently at the Fogg Museum provides a provocative starting point from which to contemplate the evolution of the photograph as visual document, social record, and art object.
In "A New Kind of Historical Evidence," curator Michelle Lamunière has chosen 70 photographs and ephemera from the University Art Museums' photography collection to illustrate the richness of the museums' holdings as well as the multiple, shifting roles photography has played. Actually, the exhibition represents only a portion of the 70,000 objects in the museum's photography collection, namely the 28,000-object Carpenter Center collection, which was placed on permanent deposit at the Fogg in 2002.
How this varied collection came into being is a story in itself. Davis Pratt, its first curator, began collecting photographs in the mid-1960s as teaching tools for Harvard students interested in the history and practice of photography.
Many of Pratt's early acquisitions came from within the University. The Geology Department donated a collection of 19th century prints including the work of pioneer landscape photographers like William Henry Jackson. The exhibition includes one of his photographs, "Cañon of Grand River, Utah," c. 1890, showing a train dwarfed by towering rock formations.
Another of Pratt's acquisitions was a collection of 6,000 photographs, diagrams, and publications amassed by social ethics professor Francis Greenwood Peabody for the Social Museum he founded in 1903. Peabody, a Unitarian minister, taught a course at Harvard on the application of religious principles to social problems and was the author of the book "Jesus Christ and the Social Question." Peabody Terrace is named for him.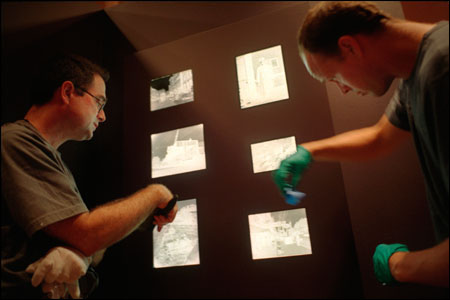 The Social Museum includes photographs by well-known reformers like Jacob Riis and Lewis Hine, as well as anonymous early photos of reform schools, mental hospitals, immigrants associations, and other visual evidence of early 20th century America's social problems. Lamunière, who is writing a Ph.D. dissertation on the Social Museum, calls the collection "a fascinating time capsule of social institutions at the turn of the 20th century" and a historical resource that deserves more intensive study.
Another of Pratt's acquisitions was the Boston Transit Collection, consisting of more than 10,000 glass-plate negatives and other materials documenting the construction of the Boston subway system and the development of the urban fabric in general. A number of these early negatives are on display, showing, among other scenes, the building of the Harvard Square subway stop in 1911.
Pratt, a photographer himself who worked as an assistant to Edward Steichen at the Museum of Modern Art before coming to Harvard, collected other kinds of work as well, many of them represented in the exhibition. They include an early daguerreotype portrait of "Uncle Tom's Cabin" author Harriet Beecher Stowe and her husband Calvin Ellis Stowe, as well as art photos by the likes of Eugène Atget, Edward Weston, Aaron Siskind, Minor White, Robert Frank, and Josef Koudelka.
Pratt left the Carpenter Center in 1972 to become the first curator of photography at the Fogg, and he was succeeded by Barbara Norfleet. A social psychologist who earned her Ph.D. from Harvard in 1951, Norfleet taught with Harvard social scientist David Riesman, author of "The Lonely Crowd," a seminal work on the ills of postwar America. In the mid-'60s she took a course with Len Gittleman, who taught photography at the Carpenter Center, and the experience led her to embark on a dual career as a photographer and a photographic curator and scholar. In 1969 she and Gittleman began teaching what became an extremely popular course called "Photography as Social Description."
Norfleet's training in sociology led her to see the value in a type of photography that almost no one had paid serious attention to before – the work of professional photographers hired to document everyday events like weddings, beauty pageants, society balls, local business openings, and the like. Unlike documentary photographers, these professionals did not set out to record their personal vision of a subject. Their purpose was to give the customers what they wanted. But in doing so, Norfleet recognized, they created social documents that could have been captured in no other way.
"The subject who poses himself in front of the camera often does not realize how much he reveals," Norfleet once said in an interview. "It is not only costume, home, and symbols, but gestures, expressions, and postures that the best professional photographers record."
Norfleet traveled the country between 1975 and 1977, culling forgotten prints and negatives from the attics and basements of more than 25 professional studios active mostly from the 1930s to the 1960s. The photographers were happy to find a home for work that would have otherwise been consigned to oblivion.
Some of the most revealing and entertaining examples of Norfleet's collecting efforts are to be seen in the current exhibition: before and after shots of a young child's first haircut by Francis J. Sullivan, taken in 1949; Martin Schweig's stop-action photo of two young men in formal clothes joyfully throwing themselves into a swimming pool; Orrion Barger's 1948 photo of a bespectacled young girl posing with her bicycle in front of an American Legion honor roll display. Norfleet was able to track down the subject of this last photo 30 years after it was taken and learned that the girl's name was Betty and that she had won the bike in a drawing sponsored by the Chamberlin, S.D., chamber of commerce.
Lamunière said that the Fogg's photography department is now cataloguing and digitizing the 28,000 objects in the Carpenter Center collection and plans to launch a Web site that will give the public access to this treasure trove of images. In the meantime, the bulk of the collection is available to students and scholars at the Agnes Mongan Center for the Study of Prints, Drawings, and Photographs.
"We want to let people know what's in the collection and that it's available for research and study," Lamunière said.