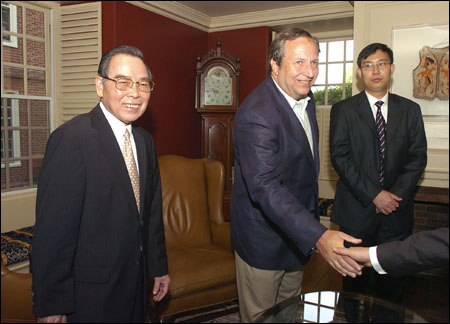 Prime Minister of the Socialist Republic of Vietnam Phan Van Khai visited Harvard University today (June 24) to talk about higher education in his country. Khai met privately with Harvard President Lawrence H. Summers this morning and briefly visited the John Harvard Statue in Harvard Yard. In the afternoon, Khai participated in a panel presentation chaired by University Professor Emeritus Henry Rosovsky at the John F. Kennedy School of Government titled "Higher Education in Vietnam: From Peril to Promise." The panel included Harvard Business School Professor Tarun Khanna and scholars from the Massachusetts Institute of Technology (MIT) and Tufts University.
Harvard has extensive links to Vietnam. The University's largest Vietnam-related initiative is the Kennedy School Vietnam Program, established in 1991 and led since its inception by Dwight Perkins, Harold Hitchings Burbank Professor of Political Economy. The Vietnam Program is recognized as an important center for the study of Vietnam's economic reform. Since 1994, the program has operated the Fulbright Economics Teaching Program (the Fulbright School) in Ho Chi Minh City. The Fulbright School is a center of applied economics and public policy research and training, with an array of educational programs targeting Vietnamese decision-makers in the public and private sector. The school's flagship endeavor is a one-year residential mid-career program for Vietnamese officials. Over the past three years, the program has added a new initiative in law and economics, providing training for senior Vietnamese legal policymakers, practitioners, and scholars. The Vietnam Program's research, which combines economic analysis with a sophisticated understanding of Vietnamese political economy, is widely read within Vietnamese policymaking circles. The Vietnamese government and the Communist Party regularly seek the Vietnam Program's candid analysis on matters related to economic policy. All of the Fulbright School's research and teaching materials have been published online through FETP OpenCourseWare, inspired by MIT's OpenCourseWare project. The Vietnam Program's Vietnam-based activities are overseen by Country Coordinator Ben Wilkinson.
Also at the Kennedy School's Center for Business and Government, the AIDS Public Policy Program is initiating a project in Vietnam with the top political training academy in an effort to promote a more consistent, multi-sectoral response to the AIDS epidemic.
The Department of Social Medicine at Harvard Medical School operates the CDC-Harvard-Vietnam HIV AIDS Project, for which Harvard experts are providing advanced HIV-AIDS treatment training in Vietnam to Vietnamese physicians.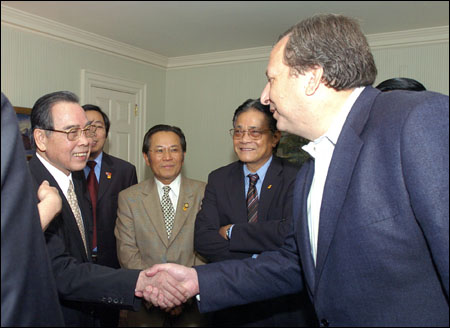 Dozens of Vietnamese have completed graduate studies at Harvard's professional schools, including the Kennedy School, Law School, and Business School. Others have studied at the Graduate School of Arts and Sciences and several Vietnamese nationals are studying at Harvard College. Since the mid-1990s, the Harvard Yenching Institute has funded Vietnamese graduate students and scholars in the humanities and social sciences to study at Harvard and other universities.
Cao Duc Phat, KSG M.P.A.-2 '95, Vietnam's minister for agriculture and rural development, is accompanying the Vietnamese prime minister on his trip to the United States and visit to Harvard.
For more information about Vietnam-related activities at the Kennedy School, contact Ben Wilkinson (benwilkinson@fetp.vnn.vn). For information about Medical School activities, contact Eric Krakauer, Department of Social Medicine (ekrakauer@partners.org).