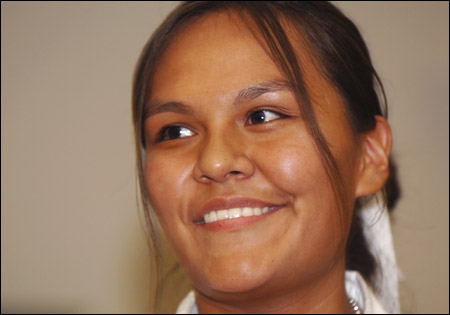 Adam Khalil, a Sault Ste. Marie Chippewa from Michigan, knows three distinct historical accounts of an 1820 treaty that affected the fishing grounds of his ancestors.
But Khalil, a well-spoken teen in a Bob Marley T-shirt, is fuzzy on the difference between subsidized and unsubsidized student loans. Sally Champagne, senior admissions and financial aid officer for Harvard College, explains that subsidized Stafford and Perkins loans don't accrue interest while Khalil is in college. Unsubsidized loans, she tells him, "are OK but not the best loans."
Khalil was one of 56 Native American teenagers who gathered at Harvard this week (June 24-29) for College Horizons, a five-day college admissions "boot camp" that offered a busy schedule of individual counseling sessions and seminars on financial aid, test preparation, essay-writing, and other mechanics of applying to college.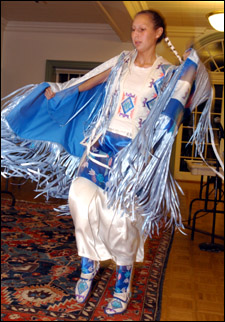 Founded in 1996 by former Harvard admissions officer Whitney Laughlin, College Horizons was hosted for the first time by Harvard, helping the University commemorate the 350th anniversary of the founding of the Harvard Indian College. Its students represented 42 Native nations and hail from around the United States and Canada.
College Horizons aims to close the knowledge gap for Native American students with services that plenty of college-bound teens take for granted: intensive counseling on choosing the right college, expert assistance with essay-writing, and a road map through the paperwork that, while daunting, leads to yet-untapped sources of financial aid.
"These students aren't coming with the kind of coaching [many other high school students receive]," said Carmen Lopez, executive director of the Harvard University Native American Program (HUNAP), which hosted College Horizons.
Representatives from 21 colleges and universities, including Harvard, as well as two dozen college counselors worked with the students to help them overcome the financial, academic, and cultural barriers to a college education.
"I've learned a lot of things about universities," said Galvin Martinez, a San Ildefonso Pueblo who is home schooled in Espanola, N. M. "I'm surprised at how different all the schools are and how selective they are." Martinez, who hopes to study science in college, is most daunted by preparing for the SATs.
Academic performance tops the list of concerns for several of the College Horizons students, who must have at least a 3.0 grade point average to be selected into the program. Malcolm Joe, a Navajo from Bloomfield, N.M., hopes to study law but worries that his high school offers no classes in legal studies. For Andrea Begay, writing a strong admissions essay is her highest hurdle.
"That's the hardest part for me, is trying to explain myself on paper," said the Gallup, N.M., Navajo.
Lopez notes that cultural beliefs and traditions often compound other more obvious roadblocks to college for Native American students. Essay writing is one of several elements of the admissions process that encourages aggressive self-promotion. "That may not be appropriate behavior for some of the students' backgrounds," she said.
Indeed, as students like Khalil shared their diverse cultures through song, dance, and talk at Traditional Night on Monday (June 27), some of the counselors and admissions officers were surprised at what they learned. Trent Tolbert, a Choctaw from Tulsa, Okla., described a passion and talent for tennis that earned him a national Indian tennis championship; he also teaches Native kids to play tennis through an organization called Standing Tall Tennis.
"Why isn't that on your resume?" shouted a College Horizons counselor from the audience.
A taste of college life
Beyond learning the tangled ropes of college admissions, College Horizons gives the students a taste of college, from meals in Annenberg ("the Harry Potter dining hall," one student said) to strolls through Harvard Yard. "Everything has been here for a long time. It's really amazing," said Begay.
Perhaps more important than learning what colleges like Harvard are was learning what they're not. "I'm surprised that it's not an uptight college. All the stereotypes I had about it have been broken," said Joe.
Elijah Hutchinson '06, whose mother is Taíno, spoke about his experiences at Harvard to a group of students.
"High school students have so many misconceptions about Harvard," he said. "You don't know everything about Harvard from 'Legally Blonde.'"
Harvard's large classes and extremely bright classmates can be intimidating, he said, but the College invests many resources in helping students succeed. Hutchinson described taking advantage of the Writing Center and securing a loan for a computer. And while his hometown of Brooklyn, N.Y., prepared him for Cambridge winters, he knows other students from warmer climes who received a winter clothing stipend.
"It didn't matter how much I could do, it mattered how much help I could ask for," Hutchinson told the students. "I knew my community was going to have my back."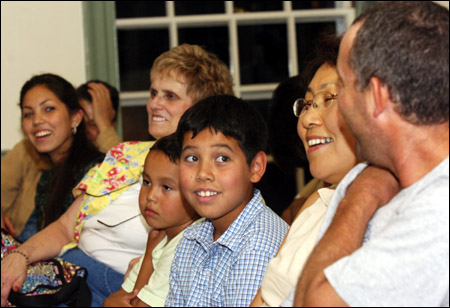 Value of traditions
While most of the week taught students the rules of the admissions game, Traditional Night beamed a proud spotlight on what they already knew. Melissa Heron, a Navajo from Page, Ariz., performed a gourd dance in shimmering traditional dress. Denise Pollock also danced, in the mukluks of her Shishmaret Village Alaskan Inuit tribe. Khalil presented his multi-faceted history of the Treaty of 1820, and Waddie Crazy Horse, a Cohchiti Pueblo, sang a Christmas song, accompanying himself on a drum improvised from a photocopy paper box.
The night reinforced an important lesson that otherwise might be lost among the overwhelming alphabet soup of financial aid programs and standardized tests. Colleges, the various counselors and advisers told the students, are as eager for their unique perspectives as the Native American students are for admission to their dream institution.
"I hope the students walk away with a sense of not only what the colleges can give them, but also what can they give the colleges?" said Lopez.
Hutchinson, the Harvard student, gave it to them straight: "You've got something that nobody else has. You've got your life experience."