Evelynn Hammonds, professor of the history of science and of African and African American Studies, has been named senior vice provost for Faculty Development and Diversity at Harvard University, Provost Steven E. Hyman announced today (July 20).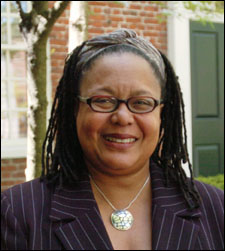 "Professor Hammonds is an outstanding scholar and a dedicated and insightful institutional leader," said Hyman. "I am tremendously pleased that she has accepted the appointment and that she, President Summers, and I will be working closely together on these critical issues."
Hyman said the new position – a joint recommendation of the Task Force on Women Faculty and the Task Force on Women in Science and Engineering – will address the need for more systematic analysis and review of appointments, with an eye to ensuring greater excellence and diversity in faculty ranks across the University.
"I am enormously grateful to Professor Hammonds for her willingness to serve in this vital role," said Harvard President Lawrence H. Summers. "As chair of the Task Force on Women Faculty, she showed herself to be an impressive leader whose vision and pragmatism make her particularly well suited to building this new office and function within the Office of the Provost. Our goal is to make Harvard more welcoming and diverse, and in so doing to create a stronger and more excellent university overall. I have every confidence that Evelynn Hammonds will take us a long way toward achieving that goal."
In addition to overseeing the implementation of recommendations developed by both task forces in spring 2005, Hammonds, as senior vice provost, will review junior faculty and other term appointments across the University, serve as an adviser to the president and provost in the ad hoc tenure process, and oversee the administration of funds designated to facilitate appointments of outstanding scholars who contribute to increased faculty diversity. She will participate in the annual academic planning process chaired by the provost and develop annual reports on the status of diversity and development efforts across the University.
In close collaboration with the faculty and School deans, Hammonds will also focus on improving the climate for women and underrepresented racial and ethnic groups on campus through the systematic collection and analysis of faculty demographic and appointments data, the implementation of University-wide diversity education programs, the development of junior faculty mentoring programs, and a variety of other initiatives.
Reporting directly to the president and provost, the Office of the Senior Vice Provost for Faculty Development and Diversity will be supported by two advisory committees: the University Committee on Faculty Development and Diversity, comprised of School representatives designated by the deans, and an advisory committee of senior faculty members selected by Hammonds to assist with the administration of the Faculty Development and Diversity Fund. As senior vice provost, she will also be a member of the Academic Advisory Group, which includes the deans of the faculties, the president, and the provost.
"Working with the president, provost, deans, and these advisory groups will allow me not only to assess trends across the University, but also to have the perspective to understand concerns particular to each School so that we can move issues related to diversity and faculty development forward effectively," said Hammonds. She noted that the task forces felt that the creation of a senior vice provost position – similar to positions found at some of Harvard's peer institutions – would be crucial to implementing other task force recommendations and to ensuring commensurate progress in issues of gender equity and diversity across the University.
One of Hammonds' first projects in the position will be to undertake a survey of junior faculty, developed by researchers at Harvard's Graduate School of Education and administered at an array of peer universities, aimed at measuring the climate for junior faculty. "If we are indeed going to change the focus of the University toward really promoting from within, then that means we need to have a much clearer understanding of the needs and concerns of current junior faculty," she said.
Hammonds, who chaired the Task Force on Women Faculty, joined the Harvard faculty in 2002. She graduated from Spelman College with a B.S. in physics, earned a B.E.E. in electrical engineering from Georgia Tech, received her master's degree in physics from the Massachusetts Institute of Technology (MIT), and her Ph.D. in the history of science from Harvard. Previously she was professor of the history of science at MIT where she was the founding director of the Center for Diversity in Science, Technology, and Medicine. Her areas of expertise include the history of scientific, medical, and socio-political concepts of race; the history of disease and public health; gender in science and medicine; and African-American history. She is the author of "Childhood's Deadly Scourge: The Campaign to Control Diphtheria in New York City," 1880-1930 (Johns Hopkins University Press, 1999) and she is completing a book on the history of race in science and medicine titled, "The Logic of Difference: A History of Race in Science and Medicine in the United States." Hammonds has participated in several national projects addressing the issue of women and minorities in science and engineering. Locally, she chairs the Race/Science Workshop that brings together scholars from throughout the greater Boston area whose work focuses on this topic. Hammonds is also a trustee of Bennett College for Women in Greensboro, N.C.
Although she will reduce her teaching and research responsibilities to serve as senior vice provost, Hammonds said she is excited at the opportunities the position provides. "This past academic year has really been a turning point for the University with respect to concerns expressed about gender equity, diversity, work-life issues, and faculty development more broadly," she said. "There is a lot of momentum for change and this is the time to put that energy into developing effective institutional structures and practices. I'm excited to be a part of the process of making Harvard the leading institution on these issues."