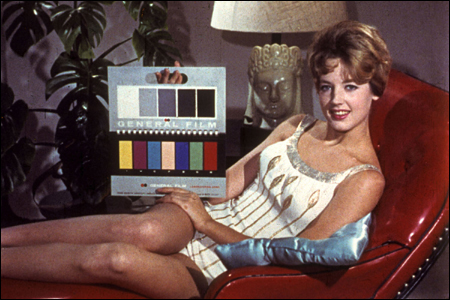 Walking up the ramp of the Carpenter Center, Julie Buck smiles as she sees a poster of a pretty, dark-haired woman in a white, one-piece bathing suit lying on a red leather recliner with a color test strip balanced on her bare thigh.
"Oh, there she is," she says, raising her hand in greeting. "Hi!"
It is no wonder that Buck, the head of conservation at the Harvard Film Archive (HFA), feels an almost personal connection with the woman. Buck, along with Karin Segal, assistant conservator and publicist at HFA, has spent many hours digitally erasing the scratches and blemishes that once obscured her face and figure. Now she and dozens of other women who have been similarly rescued from obscurity and neglect make up a new exhibition at the Sert Gallery, "Girls on Film."
The irony of the title is that while many of these women look like movie stars, they aren't. They were film-studio workers or models who posed for what are known as color-timing control strips. Color timing was an essential process in films from the 1920s to the 1990s to establish visual continuity between shots that may have been filmed under different lighting conditions or on different film stocks. Today the process is accomplished digitally, but until fairly recently film technicians used the color strips and grayscales as well as the women's skin tones as reference guides to achieve consistent color balance and tonal density throughout the film.
Evidently, however, the conventions of these photo sessions went beyond what was necessary for strictly utilitarian purposes.
"A lot of labs set them up as if they were glamour shots or as if they were doing a screen test," says Buck. "Why? We're not really sure, except that the lab technicians and projectionists – who were almost all men – liked to collect them."
The color-timing control strips were attached to the film's leader, and in the hands of a trained projectionist, they would not appear on the screen at all. Even if they did appear, the image would be almost subliminal.
"They're only three to five frames, and since the standard film speed is 24 frames per second, all you would see would be a tiny blip of a face, literally a split second."
For reasons that remain unclear, the women who appear on the strips were known in the industry as "China Girls" or "China Dolls." The most appealing of these images took on lives of their own, reproduced countless times by lab workers and sometimes appearing as pinups in projection booths. Their fame, however, was confined to a very circumscribed group. Buck became acquainted with the China Girls as an undergraduate, though, she says, even film scholars are often unaware of them. She and Segal wanted to change that.
"They've been trapped all these years," Buck, who studied film preservation at George Eastman House, says. "Now the show has freed them."
Segal adds: "Even though these women were idealized, they were only seen by a handful of men. Their images exist on the fringes of film. They were abused and damaged. We wanted to give them their due."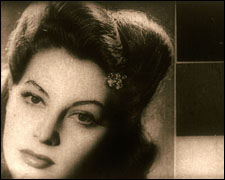 Buck and Segal worked for a year and a half preparing the show, which first appeared at the Courthouse Gallery at the Anthology Film Archive in New York City in February 2005. The two women, who are both visual artists as well as film archivists, scanned all 70 images in high-resolution digital formats then painstakingly repaired the damages that had befallen each piece of film.
"It took as much as a month just to do one girl," says Segal. "In some cases, we had to borrow pieces from one photo and use them to restore another one. It was really tedious work. Sometimes we came near tears. We said, 'We can't do this anymore!'"
But the result is visually stunning, and intriguing. The portraits are arranged in a continuous line along all four walls of the Sert Gallery, like a filmstrip. The women represent not just the United States but nearly every country in the world where a film industry has flourished – Europe, India, Japan, China.
What is striking is how familiar some of the faces seem. When the exhibition was shown in New York, Buck says, visitors would swear that they had seen some of the women in old films, but that is unlikely. As far as Buck and Segal have been able to determine, none of the women in this collection ever made the leap from China Girl to film actress.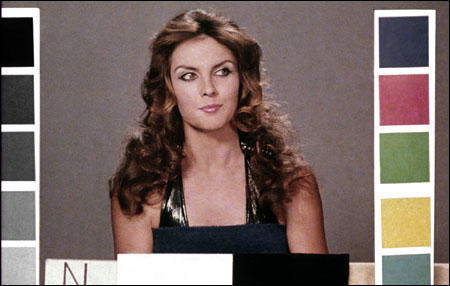 In the end, the sense of déjà vu probably results from the combination of lighting, makeup, hairstyles, clothes, and facial expressions that suggest film actresses of a particular era. But the resemblance does raise questions about why our response to a famous face is different from our reaction to one that is eerily similar but which lacks the associations acquired through a career as an actress and celebrity.
---
'Girls on Film,' an exhibition by Julie Buck and Karin Segal at the Sert Gallery in the Carpenter Center, July 16 – Sept. 18. A short program of films accompanies the exhibition on the Sert video wall outside the gallery. On Sept. 16, at 9 p.m., the Harvard Film Archive will present a program of experimental films to complement 'Girls on Film.' Each of the films represents a different artist's engagement with found footage.
---
Rumors persist, however. One that Buck and Segal heard as they were interviewing film technicians is that a teenage Joan Baez once stood in as a test-strip girl when her physicist father was engaged in making an educational film in the Boston area. But so far, the photo has not shown up.
Another possibility that the show's curators have been intrigued by is that of finding one of the women whose images they have so lovingly restored. While they have been able to track down the names of a few China Girls, they have not yet succeeded in matching a name with an image.
"In New York, we were waiting for a woman to step up and identify herself, but it never happened," Segal says.
Perhaps this summer at the Sert Gallery that moment of recognition will occur.