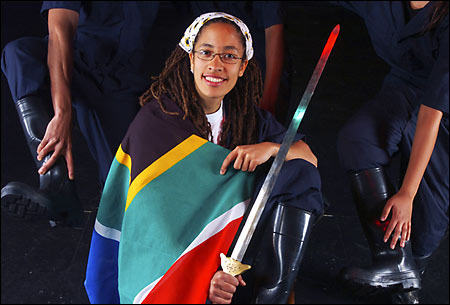 Having an identity crisis is not uncommon for college students. Who am I? Where do I belong? What is my purpose in life? These are questions that haunt many a young person preparing for the plunge into adulthood.
But for senior Itumeleng Makgetla, the crisis takes on a different character. She seems quite content with who she is. It's the people around her who tend to become confused.
"People have very different pictures of me depending on where they know me from."
Makgetla, known to her friends as Tumi, is the daughter of a South African father and an American mother. Her father, a member of the banned African National Congress (ANC), was in exile in Zambia when he met her mother, a student at the time. The couple married, then returned to South Africa in 1991 after restrictions were lifted on opposition parties. Makgetla went to high school there.
Since coming to Harvard, the Eliot House resident has thrown herself into a whirl of extracurricular activities whose variety has led to the shape-shifting reputation she has acquired among her contemporaries. Some of her activities seem to emerge quite naturally from her personal and cultural background. Others are less predictable.
A member of the Harvard African Students Association, Makgetla regularly performs with the Gumboots Dance Troupe, a student arts group that takes its inspiration from the dance form created by South African miners as a means of expression and communication under apartheid. The group has presented its energetic, boot-slapping dances during Cultural Rhythms, Arts First, and other events.
She has also been active in the Harvard AIDS Coalition, getting her picture in USA Today when the group staged a demonstration at Government Center in Boston and attracted media attention by performing the toyi-toyi, a South African protest dance.
A social studies concentrator, Makgetla spent the summer of 2004 in South Africa conducting research for her honors thesis on the South African clothing industry. She interviewed workers, factory owners, government officials, and members of parliament in order to determine the industry's chances of survival as it competes in the global marketplace with China and other Asian rivals.
Among Makgetla's more unexpected activities is her position as co-president of the Harvard Wushu Club, whose members practice a style of Chinese martial arts popularized by action stars like Jackie Chan and Jet Li. Makgetla has been interested in things Chinese since 1998 when she visited Taiwan as a high school student and was introduced to the practice of tai chi.
And as if the combination of African dance and Chinese martial arts isn't enough to bewilder those who like to put people in strict categories, Makgetla has added a third form of athletic endeavor to her repertoire – pulling an oar on the Eliot House intramural crew.
"I love being on the water," she said.
Water played a large part in another of Makgetla's adventures – sailing with Greenpeace on an icebreaker named Arctic Sunrise.
"Where else would you expect an icebreaker to be but in the Caribbean?"
The ship visited Mexico, Barbados, Dominica, and St. Lucia, investigating plants that were polluting the water with PCBs and dioxin and conducting onboard workshops to educate people in techniques for protecting the environment.
"It was a real eye-opening experience," she said.
What's ahead for this adventurous world citizen whose dedication to serious causes does not preclude trying new things or just having fun? A journalistic career is one possibility, and she hopes to give that a try this summer with an internship at a major South African newspaper. She's also looking at graduate school or law school as more long-term options. One thing she is clear about is that the land in which she was raised will play an important role in her life.
"I see my future in South Africa," she said.