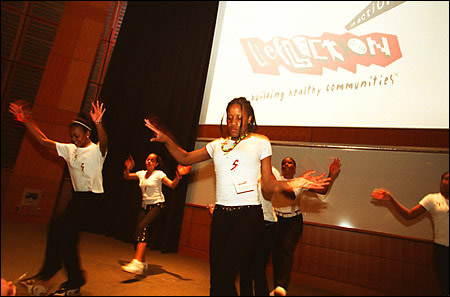 Rapping, stepping, and sidewalk-chalking are hardly customary modes of communication at Harvard Medical School (HMS). But such youth-focused expressions were the media of the day Monday (June 13) at HMS's second annual Reflection in Action: Building Healthy Communities event.
"It's designed to give a space for our youth to express their own thoughts about health, to give them a voice," said HMS Dean for Diversity and Community Partnership Joan Y. Reede, whose office sponsored the daylong event. Approximately 200 seventh-, eighth-, and ninth-graders from Boston public schools attended to learn about health topics and careers and to share their thoughts about healthy communities.
For Shalaya Washington, an eighth-grader from Boston's New Boston Pilot Middle School, reflections on youth violence came with rhymes and a dance beat.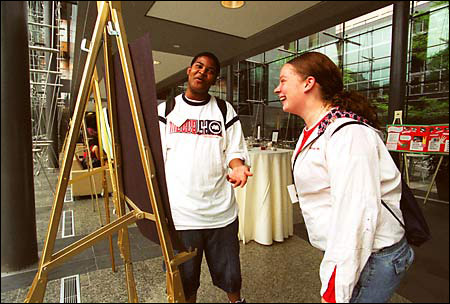 "It's not a game. Nowadays it ain't the same, 'cause kids around here don't be usin' their brain and it's a shame. I feel so much pain. Somebody's killed and it drives me insane," rapped Washington.
The Timilty Steppers, a dance group from the James P. Timilty Middle School, stepped and stomped about HIV and AIDS.
And Ramin Amiri, in the ninth grade at Another Course to College, delivered his community health message on a bright poster that mixed artwork and text: "If U smoke – U choke. It'll leave U broke. It can lead to coke. It'll make U look like a joke."
Washington, Amiri, and the Timilty students were winners in the Reflection in Action contests for performing, visual, and written arts. Their performances and displays were one part of the day's activities, which included a "Jeopardy"-style health bowl, a health fair featuring community health care providers, and "Chalk One Up for Health," an invitation to chalk health-related messages on the walkways of the HMS Quad with renowned chalk artist Sidewalk Sam.
Reede, a pediatrician, said that Reflection in Action aims to reach students who may be interested in science or medicine but are unsure of the options available to them. "Many of the youth think of science and medicine and health very narrowly. This opens it up to many more opportunities," she said, adding that the community health activism message of the day resonates with many young people.
Reflection in Action is one of several programs coordinated through Reede's office that strive to diversify the medical ranks by reaching deep into the pipeline of future doctors of scientists at a time when many important steps to success – from choosing science classes to applying to college – are still ahead of them. While some programs are more tightly focused, bringing promising high schoolers into HMS laboratories for summer work, for instance, Reflection in Action casts a wider net to excite youth about opportunities in science and health care.
Keynote speaker Glen Cosimo, biotechnology and life sciences specialist for the Boston Redevelopment Authority, told the students about the city's biotechnology, pharmaceutical, and medical device industries. "These are industries that save lives and create great opportunities," he said.
Mobolaji Oluyemise Olurinde, a student at HMS, described her journey from Nigeria to the University of Florida to Harvard. Success stories like hers begin "just by showing up where you're supposed to be," she said.
She encouraged the youth to "just show up," work hard, and volunteer to help others. "Use the gifts and talents that you have shown here today," she said. "Shine. Just by being you, you're the one person who can bring your light into the world."
Timilty School steppers Nathaly Vilsaint and Jarelis Fonseca, flushed from their performance, were upbeat about the day's exploration of career opportunities. Both are interested in some sort of health care, Vilsaint as a pediatrician.
"I'm getting there," she said about her preparation for the long path to become a doctor. "But I'm not even through high school yet."