Aaron Holzapfel looks about as you'd imagine the captain of Harvard's championship heavyweight crew would look – 6 foot 3, 220 pounds, with a trim beard and longish, wavy blond hair.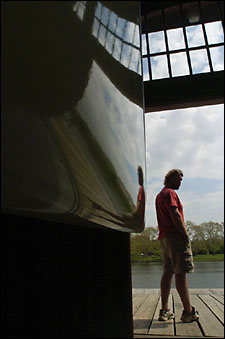 What you would find harder to imagine is the aspiration that drives this physically impressive young man now that his college rowing career has reached its triumphant conclusion.
"My dream is to go to South Africa and run orphanages. There'll be 3 million orphans there by 2010 as a result of the AIDS epidemic. I'd feel I wouldn't be true to myself if I didn't go there and see if I can help."
Holzapfel plans to join his older brother who is already working with South African orphans. Asked what experience he has in this area, he replies candidly that he considers himself "quite naïve and idealistic. I really don't know what to expect." But after talking with this Currier House resident, one comes away with the certainty that despite his lack of preparation, he is certain to make an impressive contribution.
Holzapfel grew up in Kensington, N.H., near Exeter. In his junior year of high school he transferred to nearby Phillips Exeter Academy and began his rowing career there. Harvard recruited him as a rower, and in 1991 he was part of the school's championship freshman team. Just last month, Holzapfel helped the Harvard eight win the Eastern Sprints on Lake Quinsigamond near Worcester – and do it in record-breaking time.
The middle child in a family of five whose parents operate a remodeling business, Holzapfel said that he has always loved children and as a teenager enjoyed babysitting and teaching Sunday school. He attributes his desire to help orphans to a sense of gratitude for his own upbringing.
"It breaks my heart that I grew up in a wonderful loving family and that there are millions of children who have none of that."
An English concentrator, Holzapfel loves poetry and has always wanted to write. He plans to write about his experiences in Africa as a way of letting others know about the crisis conditions there and the urgent need for help. Among his most personally meaningful academic experiences was a class on T.S. Eliot taught by Peter Sacks.
"What struck me about Eliot was that he struggled. His life was complicated. To see a man as brilliant as Eliot searching for purpose in his life was really impressive to me."
Holzapfel may have yet to face the crises of faith and artistic purpose that occupied Eliot, but he certainly knows about struggle. It is part of the experience of all those who choose competitive rowing as their sport.
"Rowing isn't fun like some games are fun. It's a lot of work. It's about pushing your body to new limits, striving toward a goal. You have to have the ability to control your body in ways that most people don't. Your body is telling you to quit, and you have to use your mind to push through the pain. A lot of the time I didn't think I had the strength to go on, but I did it."
If he had it to do over again, would Holzapfel have chosen a more fun sport, one that involves movements less taxing than digging a 12-foot oar into the water and pulling with every fiber of your body again and again and again? Not on your life.
"It's difficult, but it makes the rewards all the more great. It's been a life-changing experience. It's made me more disciplined in everything I do. It's helped me to see how much control I actually do have over myself. It's definitely been worth it."