Creating new opportunities for generations of students to engage in rigorous study of the principles of economics and finance, Moise Y. Safra has established the Moise Y. Safra Professorship of Economics. Safra's $3.5 million gift to fund the new chair is a significant step toward Harvard's goal of increasing the size of the Faculty of Arts and Sciences, and it will enable closer and more frequent interaction between students and their professors.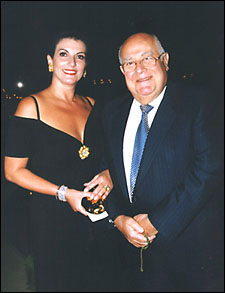 "My hope is that this new chair will be filled by a professor of finance who will impart to Harvard College students a thorough understanding of the financial markets," Safra said. "An appreciation of the markets' influence on business and society is essential to a sophisticated understanding of the world, and I believe it will be central to being an educated person in this new century."
Interest in economics and finance is growing rapidly among students at the College, where approximately 15 percent of undergraduates choose economics as their concentration. Creating the new chair helps Harvard respond to the increasing demand for enrollment in economics courses and paves the way for expanding Harvard's course offerings. Because the mechanisms of financial markets are integral to so many aspects of society, students will be equipped to apply the economic knowledge they gain at Harvard to their work in a wide variety of careers, from business and government to education, public health, and all forms of public service.
"This new professorship is a wonderful addition to our Economics Department and represents a significant step forward in our goal of building the faculty to 750 assistant, associate, and full professors by the year 2010," said William C. Kirby, Edith and Benjamin Geisinger Professor of History and dean of the Faculty of Arts and Sciences. "I am very grateful for Moise Safra's generosity and foresight, which helps us to support teaching and research at the highest level."
Moise Safra is an accomplished financier and founder of several banks around the world. He is co-owner of Banco Safra, one of the largest banks in Brazil. "Economics and finance have been the underpinnings of my career and I am very pleased to help students acquire knowledge that will serve them well in their professional lives and in their efforts to make a positive contribution to the world," Safra said.
Both Moise Safra and his wife, Chella Safra, have been involved with Harvard since their oldest child, Jacob Moise Safra, matriculated in the Class of 1992. They have been generous contributors to the Harvard College Parents Fund and also served on the Parents Fund Committee from 1990 to 1997.
The Safras' other children also have provided inspiration for the gift. Edmond M. Safra graduated from Harvard College in 1998, and Ezra M. Safra, a graduate of the Wharton School of the University of Pennsylvania, has been actively engaged in bringing the professorship to fruition.