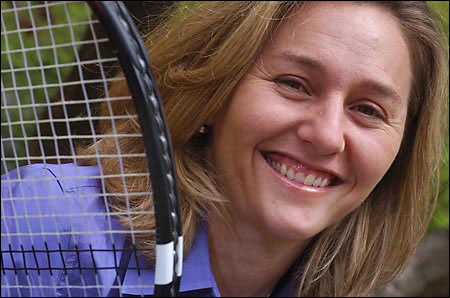 For Erika de Lone, today's graduation was a long time coming. So long, in fact, that classmates with whom she began her Harvard journey are going to be back on campus – for their 10th reunion.
De Lone, originally a member of the Class of 1995, entered Harvard as a talented tennis player in 1991, already ranked 95th in the world.
After a year at Harvard, de Lone's rank had fallen to 250 and she decided, after completing exams in the spring of 1992, to take some time off and concentrate on tennis.
"I always knew I wanted to come back," de Lone said. "[But] I didn't expect to be gone that long."
After leaving Harvard, de Lone turned pro and spent 10 years playing on the Women's Tennis Association (WTA) tour. She ranked as high as 65th in the world in singles and 45th in doubles, both in 1999. She also won nine singles challenger titles and 10 doubles challenger titles, once reaching the quarterfinals of the Australian Open in doubles.
At first the professional tennis lifestyle was hard to adjust to, de Lone said, because it required traveling half the year to 25 or 30 tournaments around the world. Except for the November and December off-season, de Lone said she would travel for two to three weeks at a time to tournaments and return home for a week or two to train and then head out for another tournament.
Though the lifestyle kept her away from her family in Lincoln, Mass., de Lone said she came to enjoy traveling, seeing the world, meeting new people, and maintaining friendships with players on the tour. De Lone said she felt lucky to have been able to make a living doing something she was passionate about.
She eventually began to feel she'd accomplished what she wanted to in her tennis career, however. That, aided by a few injuries, convinced her that the time had come to think about returning to Harvard.
"I thought it was time to complete my degree and begin my life after tennis," de Lone said.
De Lone returned to Harvard in the fall of 2002, finishing up her last matches at the U.S. Open as she started classes.
She said it was a bit strange being back, being older than other undergraduates, and getting used to the "new" Harvard. The major difference since 1992, de Lone said, was the fact that technology plays a much larger role in students' lives than it did then, when there was no e-mail and professors didn't use PowerPoint presentations in class.
Still, de Lone said, she adjusted well and, living off campus, participated in intramural crew for Dudley House.
An economics concentrator, de Lone said she plans to attend the Wharton School at the University of Pennsylvania next fall for an eventual career in business.
She has stayed involved in tennis as a member of the board of the WTA, but, though she expects to remain involved in tennis, she wants to work in a non-tennis-related area, perhaps real estate finance.
"I'm happy [Commencement] is finally here after all this time," de Lone said. "I can't believe it's over."