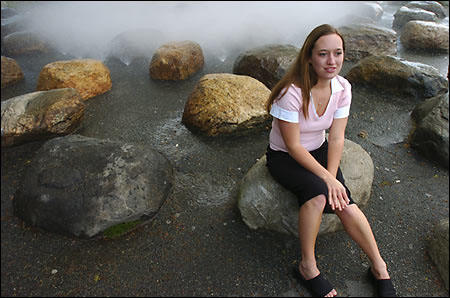 Nobody's perfect, not even Harvard students, Alicia Menendez '05 will tell graduates and their families today.
Harvard Graduate School of Education doctoral candidate Dorinda Carter will remind the Tercentenary Theatre throng that teaching and learning don't end after degrees are gathered and robes are shed.
And Caitlin Gillespie '05 will cast her four years at Harvard against the glowing light of Boston's recent sports triumphs. In Latin.
These three women – the first female trio of Commencement orators in recent memory – deliver the undergraduate English, graduate English, and undergraduate Latin orations at today's Morning Exercises. They put a contemporary spin on the centuries-old tradition of Harvard student Commencement speakers.
Menendez, a concentrator in women, gender and sexuality studies, drew from her Harvard experience for her speech, called "Perfect Imperfection."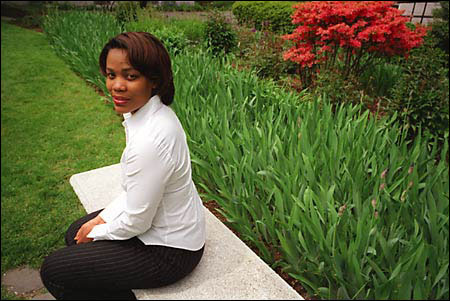 "We really hold people who are associated with this university to a very high standard, one that's almost unmeetable," says Menendez. Her speech urges appreciation for imperfections in personal relationships, in academic institutions, and in the world at large.
She believes her message is a common, albeit rarely expressed, sentiment. "I have a lot of personal experience with being imperfect," she says.
Ending, beginning, coming home
Carter, a doctoral recipient from the Harvard Graduate School of Education, will call graduates to action with her speech, "One Journey's End Is Another's Beginning."
"I'm really challenging the graduates to use this elite education for justice in society, in the world," she says. "Without that, in some ways, I feel like our education is in vain."
Befitting the Ed.D. she'll receive today, Carter's speech will put education at its center. "That's what all the graduates were doing – they were getting an education," she says. She'll stress that teaching and learning are lifelong pursuits, whether or not they're pursued professionally.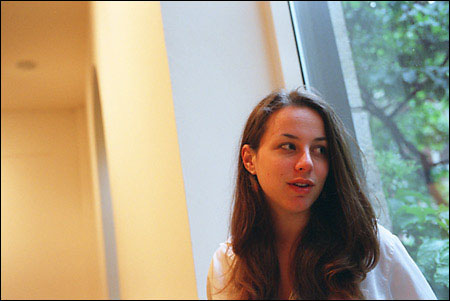 Carter, a former Miss Black Atlanta, says she is the first African-American Commencement speaker in at least a decade. "I feel honored and I hope I can represent the different faces that people are looking to see in me," she says. Descended from a slave also named Dorinda, Carter is the first in her family to receive a doctorate. The theme of education, she believes, has a special ring to her family and to other African Americans, for whom education and literacy signaled freedom and opportunity.
In contrast to the weighty themes presented by Menendez and Carter, Gillespie's Latin oration strikes a decidedly lighter mood. Punningly titled "Campus Somniorum," or "Field of Dreams," the speech sets a baseball game as a metaphor for a Harvard education.
"Four years here is like running the four bases. After you finish, you realize that Harvard has become your real home," says Gillespie, who weaves the Red Sox historic 2004 season into her talk. "Graduation gives a taste of winning the World Series. It's such an occasion."
A classics-Latin concentrator, Gillespie recognizes the anachronistic nature of a Latin address. "It's hard to pick something that makes it contemporary," she says, hopeful that the Sox reversing the curse brings relevance to her audience. Growing up outside of Chicago, she's a Cubs fan and, thus, feels "a certain solidarity with teams that hadn't won in a while," she says, smiling.
Audience: Large and auspicious
All three speakers aim to calm their nerves with extensive preparation. "I'm always rehearsing my speech – when I'm driving in the car, when I'm showering – so that when I get up there, it just flows," says Carter.
The orators receive ongoing coaching by Richard J. Tarrant, Pope Professor of the Latin Language and Literature, who chairs the committee to select speakers, as well as speech tips from American Repertory Theatre drama coaches. (Respectful of their advice, Carter nonetheless refuses to relinquish her Southern accent.)
While none are public speaking novices, the Harvard Commencement crowd of more than 30,000 graduates, families, and other dignitaries is the largest audience, by far, any of the speakers have addressed. Gillespie says she wasn't nervous until she watched a video of last year's Commencement ceremonies. "Seeing all those people – that got me a little intimidated," she says.
For Menendez, the preparation appears to have paid off. "I'm more nervous about tripping on my way up the stairs than I am about the speech," she says.