A record nine members of the Business School's M.B.A. Class of 2005 are being honored this week with the Dean's Award – and these recipients are as diverse as they are outstanding in their commitment to service. Given annually since 1998 by Dean Kim B. Clark to students who have demonstrated unusually strong leadership during their two years at Harvard Business School (HBS), the Dean's Award is one of the School's highest honors.
The 2005 Dean's Award recipients include young men and women who led career-changing treks to Europe and India, assisted small-scale entrepreneurs worldwide, mentored at-risk children, strengthened M.B.A. academic life, provided comprehensive relief to tsunami victims in Asia, raised the profile of the School's international students, and revitalized student clubs. Here's a close-up look at the award recipients.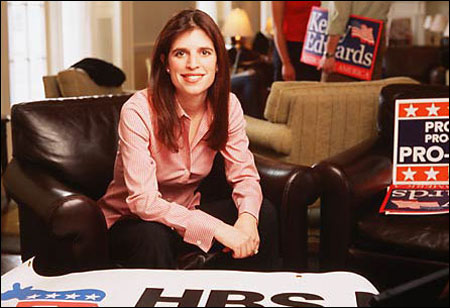 A love of politics, sports, and learning
When Jenny Abramson arrived on campus, the HBS Democrats Club was all but defunct. She joined forces with several other students to revive the club, and within a year membership had jumped from fewer than 30 to more than 200 students, thanks to energetic recruiting and appealing programs.
In addition, Abramson served as co-president of the Business of Sports Club, and represented the Business School on the University's Committee on Shareholder Responsibility, which makes recommendations to the University on investment and divestment.
Abramson was also known within the HBS community for her passion for ensuring that classmates and faculty alike had the best educational experience possible. Her first-year section – a group of about 90 students who take the School's required classes together – elected Abramson as education representative or "Ed Rep," the student who serves as the section's liaison to the M.B.A. teaching faculty. In that capacity, she organized exam review sessions, matched students in need of assistance with the right people, and offered faculty feedback on their courses.
"Jenny has had a tremendous impact on her student colleagues and faculty, and her behavior deserves to be recognized and rewarded," said a faculty nominator.
Reaching out to at-risk kids in Boston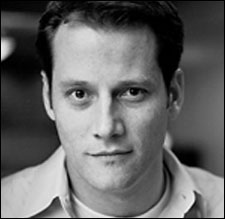 Shortly after he came to HBS, Matt Beecher began looking for ways to serve the Greater Boston community for a few hours each week. He soon discovered Books and Basketball, a program run by a local church that combines tutoring with basketball and other recreational activities for at-risk middle school and high school students.
At the time, Books and Basketball was operating only in Revere, a city just north of Boston. Working with the director, Beecher expanded the program to Boston's Roslindale neighborhood after presenting the concept to community and church leaders. He recruited 45 full-time and 10 part-time tutors from the Cambridge community and local colleges and universities, and ran all aspects of the Roslindale program. Seeing a need for more male tutors, Beecher also mentored students while he was at HBS.
"We're now at capacity in Roslindale," noted the Books and Basketball program director. "We're at that place … because of Matt's efforts and skill in marketing and managing."
Building bridges at HBS and in Allston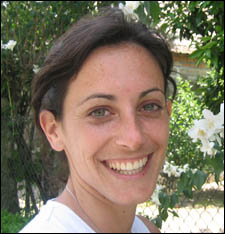 A student who nominated Brigitte Castaing for the Dean's Award called her "one of the unheralded heroes" of their class. "Even at a school where people are willing to help others, Brigitte stands out," said another classmate. "The many hours she has spent with first- and second-year students alike – counseling them on resumes, doing practice interviews, and talking over academic or personal problems – is balanced by her ongoing commitment as a volunteer in the Allston community."
In her role as chairperson of the 10 first-year section education representatives, Castaing helped diffuse a potentially volatile academic issue last fall. After a meeting of Ed Reps and administrators that clarified academic policies, "Brigitte encouraged the Ed Reps to go back to their sections and be as transparent as possible about the reasoning behind the policies," recalled an HBS staff member. "This was a true teaching moment that she led."
In addition, Castaing was involved with an HBS tutoring and mentoring program at a nearby Allston school. She worked closely with a young girl to help her succeed both academically and socially, and became a co-leader of the program. Noted one of her nominators: "Brigitte is truly a shining light."
Helping M.B.A.s find jobs in Europe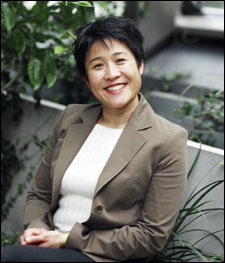 Thanks to Thu Doan, students at HBS now have an easier time landing their dream jobs in Europe. Over the past year, Doan became the de facto leader of EuroTrek – a program in London with top European companies and M.B.A. students from seven leading U.S. business schools. Avoiding budget overruns and potential logistics problems, she vastly improved the quality of the trip, according to students and staff who nominated her for the Dean's Award.
"EuroTrek is one of the most difficult treks to organize because it involves working with company contacts in different countries and coordinating with six other schools," noted an HBS administrator.
But Doan, who had participated in EuroTrek 2003, took the lead early in organizing this year's event. First she sought advice from HBS Career Services. Then, while interning in London last summer, she held weekly conference calls with student representatives from the other schools and organized meetings with potential employers.
A student organizer at Northwestern University's Kellogg School credits Doan's diligence and dynamism with helping to make EuroTrek 2004 "a success by all measures."
Supporting and including classmates at every turn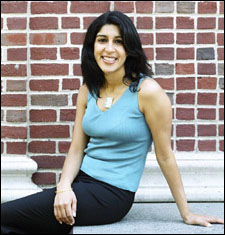 Monisha Kapila's classmates at the Business School sounded a common theme in nominating her for the Dean's Award. "Monisha is the nicest, most helpful person you've ever met in your life," said a section-mate. When a student in their section was diagnosed with cancer, Kapila immediately became involved, organizing rides to the hospital and babysitting, helping with meals for the family, and working on a multifaith prayer service before his surgery.
As a co-president of the South Asia Business Association (SABA), Kapila worked to make the club more active and inclusive.
Kapila and two other co-presidents kicked off the year with a SABA retreat in Vermont that attracted 110 people. They organized a conference that emphasized India and its neighbors. And they got SABA involved in charity work and career initiatives that ranged from instituting a SABA resume book to helping Career Services contact South Asian companies of interest to club members.
"Monisha has been the key driver and backbone of the organization," said a SABA member. "She is someone who really empowers people."
Bringing tsunami relief to Asia
When the tsunami struck India, Sri Lanka, and other parts of Asia in late December, Harvard students were on winter break. But that didn't stop Nayana Mawilmada, a native of Sri Lanka, from establishing a relief fund within the Boston chapter of the American Red Cross and e-mailing friends and classmates at HBS about the urgent need for donations. Within a week, the fund had surged to nearly $40,000. University officials soon endorsed the fund and announced that Harvard would match student and staff gifts; the Business School alone eventually donated more than $100,000 to tsunami relief efforts.
Mawilmada demonstrated "incredible leadership" in facilitating the response of the HBS community to the tsunami disaster, noted a classmate. "He inspired student involvement in many ways, from identifying methods for raising money to identifying charities in Sri Lanka and Indonesia that would use HBS donations to maximum effect."
Mawilmada, who had worked at the Asian Development Bank before entering HBS, drew on his professional expertise to ensure that Business School contributions went toward both immediate relief needs and long-term reconstruction projects. He also worked closely with School administrators to set up summer internships in Sri Lanka for HBS students, noted an HBS staff member. "While Nayana has relentlessly pursued this project, he is also gracious in giving credit to other students. He is quick to let others shine."
Recognizing small-scale entrepreneurs around the globe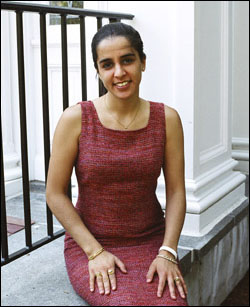 Bhakti Mirchandani has always had a global outlook. A consultant for Women's World Banking, an international development organization, prior to pursuing dual degrees at HBS and the Kennedy School, Mirchandani soon found ways to continue to help others worldwide. She served as co-chair of HBS's Social Enterprise Conference, and then created the Global Microentrepreneurship Awards in conjunction with the United Nations, which had issued a call to the global community to extend financial services – including business loans as low as $100 – to the world's poorest people.
"I am in awe of the work that Bhakti has done," said a fellow student. "She identified an opportunity to work with the UN's International Year of Microcredit and launched contests around the world to celebrate the entrepreneurial spirit of poor but innovative business owners."
Teams of student volunteers that Mirchandani organized at HBS and other top business schools worked in eight countries – Afghanistan, Cambodia, the Dominican Republic, Indonesia, Mexico, Mozambique, Pakistan, and Rwanda – to identify flourishing small-scale businesses and encourage them to enter their best entrepreneurs in a national contest. UN representatives, in conjunction with the students, selected winners in each country, all of whom received cash and other prizes.
Sharing a passion for India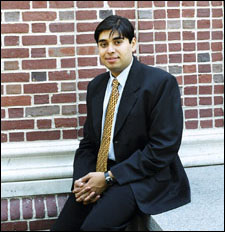 For several weeks last winter, Naveen Tewari managed more than 100 HBS students as they traveled around India and met with the country's top business and political leaders. By all accounts, IndiaTrek – the second HBS trip to the subcontinent – was a great success.
"This trip was superbly orchestrated, and it benefited both the HBS community and different segments of the Indian community," said a classmate who participated in IndiaTrek. "Naveen has done a great service by educating HBS students about India's economic potential, its people, and its culture."
HBS students met with business leaders such as Infosys Chairman Narayana Murthy, also known as "the Bill Gates of India," and with the directors of the country's largest conglomerates. They also took part in a symposium with representatives of India's software industry. And while high tea with India's prime minister at his New Delhi residence was one high point for many HBS trekkers, they were also deeply moved by their trip to Tewari's ancestral village – and decided to launch a field study upon their return to HBS to explore helping villagers set up a school.
"I don't think people expected as much as they got out of the trip," said another student. "Naveen gave HBS students a once-in-a-lifetime experience and that's why so many of them wanted him to receive the Dean's Award."
Elevating the status of international students
Claudia Wyss has single-handedly done more to promote the voices of HBS's international students than anyone else in recent memory, according to several School administrators and students. From the time she arrived on campus, Wyss, a physician who helped start a hospital in her native New Zealand, was known as a champion of international students, who comprise over one-third of the student body and hail from more 70 countries.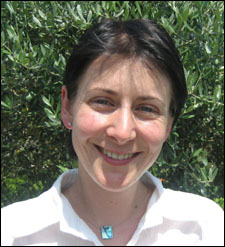 "No one has worked harder than Claudia to make the needs and aspirations of international students better heard within the HBS community," noted one staff member. "What she has done in particular is to elevate the status and visibility of the international representatives – the students who serve as liaisons between the first-year sections and School administrators on international matters."
In addition to helping Career Services enhance its services for international students and make it easier for them to obtain visas, Wyss also played a key role in organizing and expanding International Week at the School. The event, which includes panels on careers for international students, was held in the fall for the first time this year to give international students more visibility up-front.
One of Wyss' section-mates said, "Her personality is motivating and inspiring. As international rep, she set a tone early on in the section that we should revel in the fact that we are all from different places in the world."