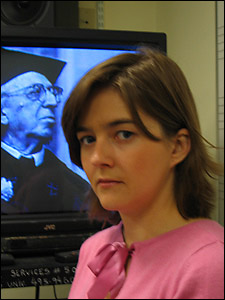 Emily Abrams was fact-checking Aaron Copland's tenure as Norton Professor at Harvard as part of her research on a forthcoming book on the composer edited by her professor, Carol Oja. The official lectures from his visit (there were six) were published in the volume "Music and Imagination" in 1952. Abrams, a second-year musicology graduate student, also came upon something very few people knew about.
"I found a letter in the Library of Congress, from Copland to Harvard, where he said, 'Here are the tapes for the series I made that was based on my class at Harvard.' I discovered he did an additional seminar for undergraduates called 'Music in the Twenties.'" What's more, Copland had turned that class into the bones of a television series with the same name, produced by WGBH TV in Boston in 1965. The tapes he referred to in his letter were unedited copies of the shows.
Abrams tracked the tapes to Houghton Library, where they could not be located.
"But there were transcripts," she smiles. (She was eventually able to view another copy of the tapes at the Library of Congress.) Twelve months and many hours of research later, Abrams has come to know Copland in a role not often conjured anymore – that of TV personality and Cold War cultural ambassador.
"Music in the Twenties" was Copland's first big TV project, and his only series.
"It was very much of its time," says Abrams. "This was the heyday of educational television, a time when artistic and intellectual topics were popular. Half the program is Copland talking to the camera and half is a live performance of music from the twenties.
"He makes some quite eclectic choices, like Paul Hindemith's "There and Back" – an amazing opera that goes forward in time and then rewinds. To achieve this the producers used a mix of live sounds and special effects. He also programmed other music the general public probably hadn't heard much before; Stravinsky, Schoenberg. Even in the 1960s these seemed very modern. To think even now of a work of Schoenberg's being heard for 15 minutes on television is incredible!"
The series was very popular, and it was repeated a number of times. But the transcripts of the unedited tapes gave even more information.
"After they finished shooting the scripted part, the producers would chat with Copland and he'd give his honest opinion – 'What did you think of so and so or such and such' – and this you obviously didn't see in the program."
Abrams found the composer's candor illuminating. "Copland was usually very nice and professional, so it's interesting to hear his honest opinions on some of his contemporaries." He described Satie and Cage, for example, as "Much more amusing to talk about than to really listen to." He found the harmonic progressions in jazz "rather corny," described Webern's serial method as "cold-blooded," and Hindemith as "a true academician, deep-dyed."
"His personality was the thing," Abrams believes. "He had a good personality for TV. He was very straightforward, like Bernstein. Not the extravagant personality or glitter and glamour of Bernstein, but he was an affable, honest kind of guy. People wanted to interview him because they knew he could be relied on to repeat his favorite anecdotes and that he'd speak as if he were telling them for the first time. In the later years of his life, I think he loved telling these stories of his youth."
And the camera liked him as well: Abrams has now found about 35 television documentaries and interviews in addition to recordings of live performances conducted by Copland.
"Copland became like a father figure for American music. For many people, of the American composers of his generation, Copland's was the music in their minds. Aspects of his music were even associated with American landscapes – 'Rodeo,' 'Quiet City,' 'Appalachian Spring.' Copland was the U.S. from a musical point of view."
But more than that, Copland epitomized the idea of the American dream that was so key in the Cold War. On American television, "People needed to be shown that honest, straightforward guys from humble beginnings can rise up and succeed without the need for communism," says Abrams.
Abrams became intrigued with how Copland's image was used by the U.S. government for propaganda purposes overseas. She discovered that Copland, who was once employed by the State Department to represent America during an exchange of composers, was featured on a U.S. Information Agency (USIA) television program produced for foreign audiences. "The way he's portrayed to foreign audiences reveals a lot about what the American government respected in the culture," notes Abrams. "In the same way that the CIA secretly funded concerts in Europe as cultural propaganda, there were government agencies that selected certain American artists to represent the U.S. overseas. Copland's USIA television appearance was used to help combat an anti-American sentiment that had started to grow in Europe in the 1960s and 1970s. It was like saying, 'Look, we're not the bad guys – we have culture too! We have an exciting and diverse musical scene – with brilliant composers and jazz musicians!'"
Emily Abrams is in her second year of graduate work in historical musicology. She is pursuing the role of music in Cold War relations as a potential thesis topic.