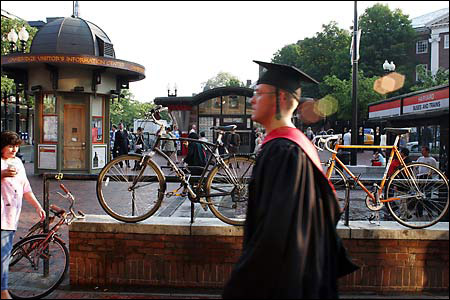 Not exactly in disguise, but nicely dressed and well-behaved, a couple of intrepid Gazette reporters mingled unobtrusively in the lively, vibrant 354th Commencement of Harvard University. They were on the lookout, as they are every year, for what is known in the trade as "color." This year, under friendly skies and surrounded by movement, noise, and a great deal of color, they were not disappointed. Following are some of the usual – and not-so-usual sights and sounds of the triumphant day.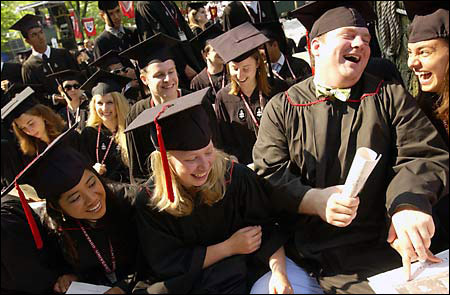 The good word from the Memorial Church
Seniors traditionally begin Commencement Day (or, perhaps more accurately, end Commencement Eve) with a brief service in the Memorial Church. The Rev. Mark D.W. Edington, Epps Fellow and chaplain in Harvard College, urged the graduates to build the foundations of friendships, skills, and consensus.
"One of the great benefits of a Harvard education is to realize that you have something left to learn every day of your life," he said.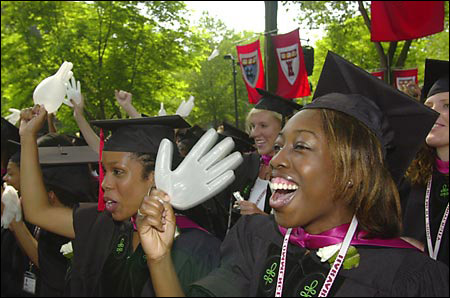 He also made a distinction that might nudge any Harvard grad into a healthy moment of reflection. "Remember how much more important it is that you be good than that you be great," he said. "Greatness is fleeting."
Edington drew the first of what would be several comparisons between the Class of '05, which arrived just before the events of Sept. 11, and the Class of 1945, which similarly began their college careers in peacetime and concluded in war. The world awaiting these graduates, he said, craved the imagination they would bring to it.
"Go out there and do what [the Class of '45] did: Leave here into a world of ruins and leave it better than you found it," he said.
Eavesdropping
A senior at the doorway to the Memorial Church before the Senior Class Chapel Service:
"I've got to see this church at least once."
One member of the 50th Reunion Class of 1955 to another:
"Do you remember where the big TVs were at our graduation?"
"Was TV even invented then?" replied his classmate.
A father to a photographer:
"Can you get my son? He's the good-looking one in the black robe."
A daughter to a father-photographer:
"It's hard to smile on three hours' sleep."
A relative to information booth worker Teddy Styles '07:
"Where are all the economics concentrators sitting?"
When Styles explained to the relative that students sat by House, not concentration, the inquisitor pressed on.
"Well, he played football. Does that help?"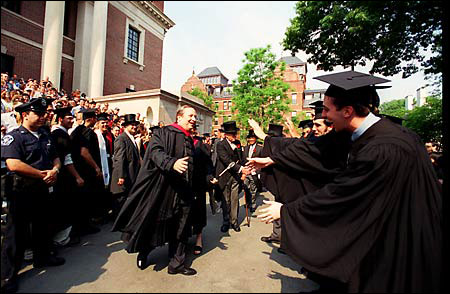 Head of the class
Finishing four years of college is indeed an accomplishment, and many graduates no doubt feel they are standing taller on Commencement day. One group of seniors from the Dudley House Co-op actually was standing taller. They had decided to make their entrance into Tercentenary Theatre on stilts.
"We wanted to make things a little more festive," said senior Neil Ellingson, "bring back a sort of carnival atmosphere to Commencement."
Co-op resident Julia Lewandoski designed the stilts, which were sturdily bolted together out of two-by-fours and padded with an arrangement of foam and silver duct tape. Their funky, homemade appearance was in keeping with their co-op origins (the Dudley Co-op has provided undergraduates with the opportunity for self-governing, off-campus living for nearly 50 years), but they met their design objective quite effectively – lifting their wearers a good 18 inches above the heads of their peers.
"We practiced for a while to avoid toppling," said Ellingson. "We were afraid they wouldn't let us do it, but it went off without a hitch."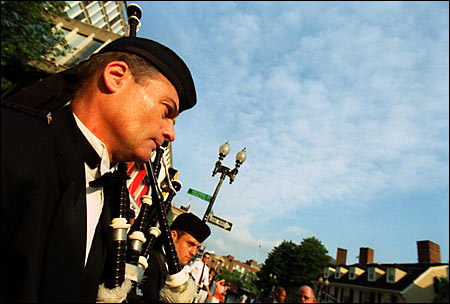 'Aragorn' the snare and 'Pippin' the bass
The Harvard Band was in rare form this Commencement, adding a sprightly, propulsive rhythm to the day's events and infusing the atmosphere with its familiar repertoire of melodies. Band members seemed to be everywhere, at first ensconced on their bandstand beside University Hall, then later snaking through the campus in marching mode, announcing their presence with the sound of brass, woodwinds, and drums long before the appearance of their crimson blazers through a brick gateway or 'round the corner of a tent.
The band was founded in 1818, and while the emphasis has always been on tradition, there have been changes over the years. One recent change is that the drums have new names.
"They used to be named after characters from the movie 'Top Gun,' but we decided to rename them this year after characters from 'Lord of the Rings,'" said Ariel Shwayder '03, who had returned to Harvard to perform on the snare drum, now emblazoned with the name "Aragorn." His brother Kobey Shwayder '07 played the quads, renamed "Gandalf," while a pair of percussionists beat time on the bass drums, named for the hobbits "Merry" and "Pippin."
"We have drums named for the other characters, but they're not here today," Shwayder said.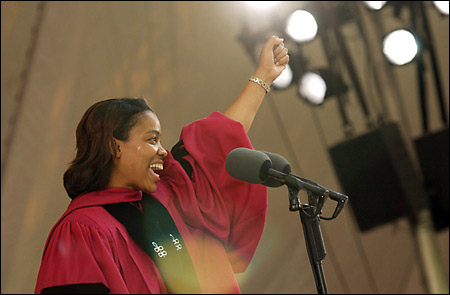 Leader of the band, for now
As the audience trooped out of Tercentenary Theatre at the close of the morning ceremonies, Band director Tom Everett relinquished his place on the bandstand to a succession of graduating band members who wanted to try their hand at conducting. A few alumni took the baton as well, including Frank Fiske '50.
"I was in the band all four years as an undergraduate," Fiske said. "I played the baritone horn and the glockenspiel, but not at the same time."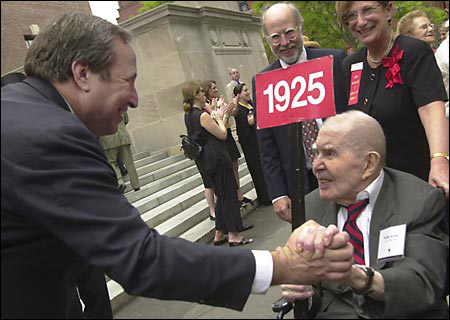 Battle of the bands
The Yard on Commencement morning is an altogether cacophonous place. Joining the tolling of bells and the Harvard Band are several smaller ensembles that lead graduates from their Houses to the Yard. This year, a bagpiper, a Dixieland ensemble, and a Mardi Gras group lent a celebratory, if discordant, air to the festivities.
When a fife-and-drum corps started up "When Johnny Comes Marching Home" to lead a long trail of black-clad Kirkland House students, the tune's alternate words – "The Ants Go Marching One by One" – seemed fitting.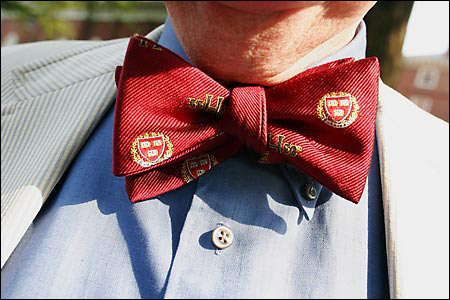 Here comes the sun
As the Class of '05 assembled itself, House by House, in the Old Yard, University Marshal Jacqueline O'Neill looked relieved that the last – and least controllable – detail of the morning's ceremony had fallen into place.
"When the sun shines it makes all the difference in the world," said O'Neill. "Everyone deserves to have a good Commencement."
For Harvard Divinity School graduate Jocelyn Beh '02, the second time was the charm. "I graduated from Harvard College in 2002 in a torrential downpour. This is much better," she said.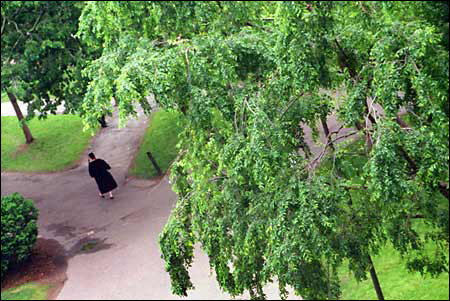 Cost of a college education: 2 bushels of wheat
With the weather gods smiling on Harvard Commencement and delivering a sunny, mild day, the fashion forecast predicted a profusion of interesting headwear. Mortarboards and berets topped the graduates, of course, and several students wore them with a creative flair: a flower tucked beneath the tassel, the pipe-cleaner halos sported by Divinity School graduates, a few silhouetted cityscapes sprouting from Graduate School of Design mortarboards. Others pre-empted sweat by wearing do-rags beneath their official hats.
Throwing things in the air at Commencement is an old tradition, and for many years the missile of choice was one's own mortarboard flung skyward with an insouciant whoop. But no longer. Today's graduates arrived at Commencement equipped with a colorful assortment of objects, ranging from surgical gloves for the medical students to globes for the Kennedy School graduates, to gavels for the Law students. Among the most unusual totems this year were inflatable plastic Aladdin's lamps accompanied by ears of wheat. These were brandished by graduates of the Extension School – one of whom, Claudia Murrow A.L.B., explained:
"The lamp is the lantern of the Extension School from the school shield, and the wheat represents the two bushels of wheat that Harvard once charged for tuition. We're supposed to throw the lamps instead of our hats because the rental people don't want us to lose the hats."
It's hard to look dignified carrying broccoli …
Breaking with tradition has itself become a Harvard Commencement tradition, no more creatively embodied than in the props and decorations waved, flung, and worn by the graduates of Harvard's professional Schools.
This year, graduates of both the Kennedy School of Government and the Graduate School of Arts and Sciences tossed beach ball globes, while Harvard Business School students embraced the global economy by waving their many national flags. At the Harvard School of Public Health, where America's increasing waistline is in the academic crosshairs, graduates carried plastic fruits and vegetables. Graduate School of Education grads brandished children's books, either purchased or brought from home, which they will later donate to local schools.
And although the Law School's "official" prop was a gavel, J.D. candidates Robert Sean Hill, Charlie Steenberg, and Will Gerard carried stuffed shark puppets. "We heard about carrying sharks from previous years and thought it would be funny," said Hill.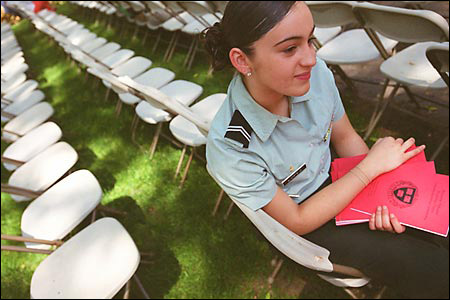 Endowing a chair
After the lengthy afternoon ceremonies, most Commencement guests were probably glad to get up off their hard folding chairs, but Adam Kundishora '08 and Steven Duque '08, both of Harvard Student Agencies (HSA), had stationed themselves at a strategic egress point to offer people the chance to sit down again.
The two students were taking orders for engraved Harvard chairs, handcrafted of solid maple by Standard Chair of Gardner, a steal at $350, all profits to help HSA provide students with jobs and help pay tuition. Duque admitted there is a bit of sticker shock, especially for older alumni.
"One alum from the Class of 1950 said, 'I have a chair like that. How much do you think I paid for it? Thirty-eight dollars, and I thought I was getting ripped off!'"
Fortunately, not everyone was put off by the rising cost of fine, monogrammed furniture.
"We sold three today and four yesterday," said Kundishora. "A lot of parents want to buy chairs for their kids as graduation presents."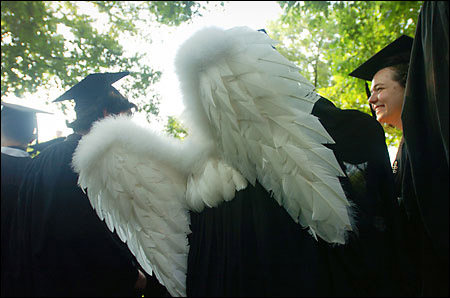 The origin of the fried clam unveiled
Did Woodman's, the seafood restaurant in Essex, Mass., really invent the fried clam?
"Yes," said Maureen Woodman, who ought to know. Her husband, Doug Woodman, is the great grandson of "Chubby" Woodman, the fried clam's originator.
"It happened July 3, 1914. They were making french fries in the restaurant when one of the clam diggers said, 'Let's throw in the clams with the potatoes.' And they did."
Woodman's has been catering Harvard Commencement and Reunion events since 1959 when the restaurant provided seafood for the Class of 1924's 25th reunion. Photos of the class can still be seen in the restaurant.
At this year's Commencement, Woodman's catered 11 Harvard events, with 600 pounds of mussels, 1,125 hotdogs, 1,500 lobsters, 107 whole rotisserie chickens, 1,425 ears of corn, 57 gallons of clam chowder, 25 gallons of coleslaw, nine watermelons, 1,200 brownies, and 525 chocolate chip cookies.
How has the recent red tide affected Woodman's Harvard business?
"We lucked out," Woodman said. "We decided months ago to do mussels rather than steamers, and they're cultivated, so they're not affected. And the clams for the chowder are the larger surf clams, and they're not affected either."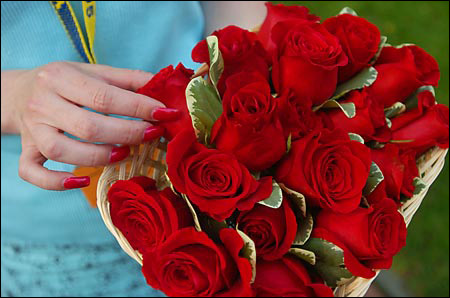 Honoring Indian roots
Commencement's Morning Exercises honored the 350th anniversary of the Indian College at Harvard with an opening prayer by Carrie Vanderhoop (GSE '02) of the Wampanoag Tribe of Gayhead Aquinnah. Vanderhoop is a direct descendent of Caleb Cheeshateamuck, the first graduate of the Indian College.
"May the creator give you the vision to see the potential to change this world into a more harmonious place," said Vanderhoop in the English translation of her prayer.
– Beth Potier and Ken Gewertz