Tim Russert, managing editor and moderator of "Meet the Press" (MTP) and political analyst for "NBC Nightly News" and the "Today" program, is the 2005 Class Day speaker, announced the Harvard College Class of 2005 Senior Class Committee and the Harvard Alumni Association Wednesday (May 11). He will address the senior class and guests on Class Day, June 8, at 2 p.m. in Tercentenary Theatre.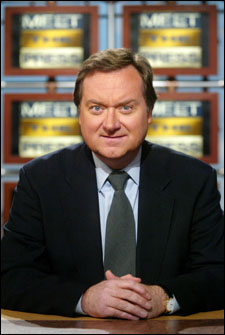 "The Class of 2005 is very lucky to have Tim Russert speaking at this year's Class Day Exercises," said Class Secretary Erica Jalli '05. "Mr. Russert is sure to give a very thoughtful speech with a memorable message, as he is very accomplished and places a strong emphasis on both education and values."
Russert anchors "The Tim Russert Show," a weekly interview program on CNBC, and is a contributing anchor for MSNBC. Russert took over the helm of "Meet the Press" in December 1991. Since then, MTP has become the most-watched Sunday morning interview program in America and the most-quoted news program in the world. Now in its 57th year, "Meet the Press" is the longest-running program in the history of television. Russert has interviewed every major figure on the American political scene, according to the "Meet the Press" Web site.
Traditionally taking place on the day before Commencement, Class Day is a student-focused, less formal celebration of the graduating class at Harvard College.
"The world has changed dramatically since members of the Class of 2005 entered Harvard four years ago. Tim Russert has significantly contributed to our efforts to elucidate and make sense of these changes. As we prepare to go out into this new world, I look forward to the opportunity to learn from the wisdom and insights of Mr. Russert," said Dominique Nong '05, Second Class Marshal.
Russert has received 29 honorary doctorate degrees from American colleges and universities and has lectured at the Kennedy, Johnson, Nixon and Reagan presidential libraries. In 2001, Washingtonian Magazine named Tim Russert the best and most influential journalist in Washington, D.C., describing "Meet the Press" as "the most interesting and important hour on television." In 2004, Reader's Digest said he was "America's best interviewer." His "Election 2000 Meet the Press" interviews with George W. Bush and Al Gore won the Radio and Television Correspondents' highest honor, the Joan S. Barone Award, and the Annenberg Center's Walter Cronkite Award, and his March 2000 interview of Sen. John McCain shared the 2001 Edward R. Murrow Award for Overall Excellence in Television Journalism, according to MSNBC.
In 1995, the National Father's Day Committee named him Father of the Year; Parents magazine honored him as Dream Dad in 1998; and in 2001, the National Fatherhood Initiative also recognized him as Father of the Year.