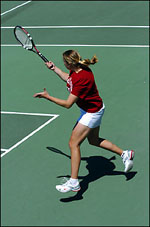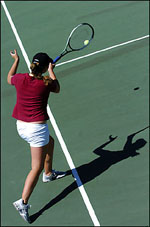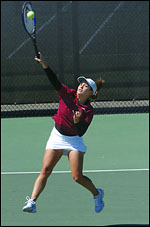 Center court took center stage in first round NCAA women's tennis action against Maryland this past Friday (May 13). With the doubles point up in the air following host Harvard's 8-1 thrashing of the Terrapins in court 1 and Maryland's 8-4 win in the far court, the tiebreaker pitting the Crimson duo of Elsa O'Riain '07 and Courtney Bergman '05 against Neda Mihneva and Tamar Huppes was suddenly thrust into the spotlight.
With players from both teams surrounding the action, O'Riain and Bergman handled the drama well, reversing a late Terrapin rally for an 8-6 win to clinch the point.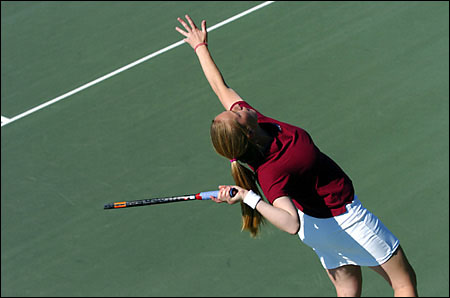 Harvard's happy endings continued to haunt Maryland in singles competition, and again against the University of Tennessee in the second round on Saturday (May 14). Finishing off Maryland on Friday, Harvard freshman Celia Durkin took apart Jennifer Dent 6-4, 6-4, to seal the Harvard shutout, 4-0. Her patient play again reaped huge dividends for Harvard the following day against Lady Volunteer Victoria Jones, as the Crimson rookie responded to a 6-4 defeat with a pair of wins (6-3, 6-2) to wrap up the singles competition and hand Harvard the 4-1 victory.
The win punches Harvard's ticket to the Sweet 16 for the second time since 2003. The Crimson, which improve to 19-6 with their 11th straight win, take on No.1 Stanford today (May 19) at the Dan Magil Tennis Complex in Athens, Ga. Check http://www.gocrimson.com for the latest updates.