"Sun, skills, and sprawl" are the three factors that largely determine regional growth patterns, Professor of Economics Edward L. Glaeser told local, state, and federal officials on April 27 at a conference organized by the Kennedy School's Rappaport Institute for Greater Boston.
The conference, which was co-sponsored and hosted by the Federal Reserve Bank of Boston, brought a diverse array of scholars and policy-makers together to discuss the metropolitan region's economic future.
Boston managed to maintain gradual population growth from 1980 to 2000, bucking a trend of population decline among cold-weather industrial cities, Glaeser said. In recent years, residents of congested Northeastern urban areas have fled to Sun Belt states and sprawling suburbs. Yet despite Boston's wicked winters and traditionally treacherous traffic, "Since 1980, the city has surged," Glaeser said.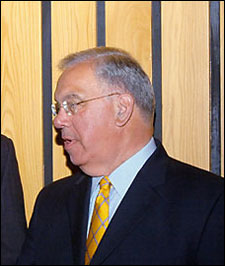 "The central city certainly isn't sprawling, and it doesn't have sun, but it does have skills," said Glaeser, who has been the Rappaport Institute's director since last summer. Boston ranks sixth in the nation on Glaeser's list of "high-skilled cities," measured by the percentage of adults who hold bachelor's degrees.
In "Smart Growth: Education, Skilled Workers, & the Future of Cold-Weather Cities," a Rappaport Institute policy brief released at the conference, Glaeser argues that chilly metropolitan areas with high proportions of college graduates have adapted to changing economic climates by "reinventing themselves." The Boston area's well-educated workforce has allowed the Hub region to diversify its economy and shift toward fast-growing sectors such as life sciences and information technology.
"Skilled cities excel because they permit innovation," Glaeser said. "Then the public policy challenge becomes producing skilled people and keeping skilled people from leaving in times of crisis."
With that challenge in mind, Boston Mayor Thomas M. Menino, along with an expert panel moderated by Kennedy School Dean David T. Ellwood, discussed strategies to sustain the metropolitan area's growth.
In opening remarks, Menino said that local universities would continue to propel the region's resurgence. "I'm bullish on Boston," he said, adding that Harvard's expansion into the city's Allston neighborhood would have a "positive" effect on the local economy.
Panelist Paul S. Grogan, the president of the Boston Foundation, drew chuckles from the 100-person audience when – alluding to Glaeser's statistics on the link between growth and weather – he said: "I think we all have to hope that global warming accelerates."
Grogan, formerly Harvard's vice president for government, community and public affairs, said that Boston should welcome college students more avidly. "If you just read the newspapers over the past few years, you would think that students are a pestilence visited upon this community," he said, urging the city's residents and reporters to adopt a more accommodating approach.
State Sen. John A. Hart (D-Boston) said that pending legislation to encourage stem cell research in Massachusetts – approved overwhelmingly by the State Senate on Tuesday – could enhance the region's image as a cutting-edge innovator. "What we did with that piece [of legislation] was send a message: We can't let other states be more competitive than we are here," Hart said.
Several panelists emphasized the need to encourage residential development in order to control skyrocketing housing costs. Glaeser noted that four of the five U.S. cities with the fastest housing price growth between 1980 and 2000 are located in the Hub: Cambridge, Newton, Boston, and Somerville.
Ellwood said that new immigrants would also help to rev up Boston's economic engine. He noted that the Boston area is well positioned to benefit from an influx of foreign-born workers: "At our best, we are in fact quite culturally welcoming and tolerant."
"Globalization helps the place with the most human capital – the finest minds," Glaeser said. "Boston's comparative advantage is in its people."