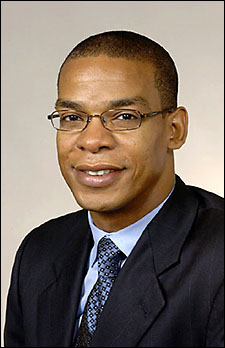 John Fitzgerald Gates, a senior adviser to the president and the provost of the University of Vermont, has been named associate dean of Harvard College for administration and finance. Gates will report to Deputy Dean Patricia O'Brien. The appointment is effective July 1, 2005.
Working with the dean and the deputy dean, Gates will manage a broad range of administrative areas, including finance, human resources, information technology, facilities, and operations. He will replace Georgene Herschbach, who was recently named associate dean for academic programs.
"It is our extraordinary good fortune to have someone as talented and accomplished as John join the College staff," said Benedict H. Gross, dean of Harvard College and Leverett Professor of Mathematics. "With his broad background in higher education, including work with minority students, international programs, student services, and academic planning, he will help us manage our administrative functions. He will also bring to the College vitality and vision, as we begin to implement changes recommended by the curricular review."
Gates, since July 2003, has been special assistant to the president and provost at the University of Vermont. In that capacity he served as adviser to the senior administrators and oversaw diversity and equity programs, represented the university on the boards of several external organizations, and served on the University Planning Council and the Master Planning Council. He is currently on leave to complete his dissertation.
Before joining the Vermont administration, Gates held several positions at New York University, spanning nearly a decade. Most recently, 2002-2003, he was executive director of Global Operations, responsible for the university's campuses in Argentina, the Czech Republic, Great Britain, and Italy.
As assistant provost at NYU, 1999-2002, he served as chief-of-staff to the vice chancellor and provost. Prior to that, he served for one year as associate director of the NYU Africana Studies Program and The Institute of African-American Affairs, and before that, he was associate director of the Faculty Resource Network, which provided professional development programs annually for more than 300 faculty from 65 colleges and universities nationwide. He also was acting director of NYU's Florence, Italy, facility.
While he was an undergraduate at Morehouse College, he was assistant director of pre-freshman programs. He received his B.A. degree in 1993 from Morehouse, an M.A. from NYU in 1998, and is expected to complete his dissertation for a Ph.D. from the University of London next year.