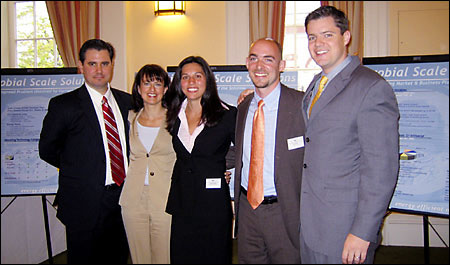 Comic book fans looking for a good-hearted Green Goblin may want to consider the humble, the tiny, but the very powerful microbe. While lacking the menacing laugh and standard suite of pyrotechnic gadgets, these ubiquitous life forms (1 gram of soil holds more of them than there are human beings) are set to play the hero in an ecological and technological adventure. Already exploited for their ability to eat away at oil spills, the clever bacteria have garnered a team of Harvard entrepreneurs first place in the $125,000 "Ignite Clean Energy" business plan competition for its proposal to use microbes to clean out the gunk that forms inside water pipes that conduct heat, and in the process, dramatically increase energy efficiency.
Microbial Scale Solutions (MSS) – composed of graduate students Thomas "Tod" Perry, Division of Engineering and Applied Sciences (DEAS), Ph.D. '05; W. Alex Goodwin, Harvard Business School (HBS), M.B.A. '05; Jacqueline Harlow, Harvard Law School (HLS), J.D. '06; Brian Pulliam, Graduate School of Arts and Sciences (GSAS), Ph.D. '07; and Kathryn Tinckam, M.D., Harvard Medical School (HMS), MM.Sc. '05 – was one of 11 final teams (out of an original 40 entrants) that competed on April 27 at the Massachusetts Institute of Technology (M.I.T.). Local companies, state initiatives, and the Energy Special Interest Group of the M.I.T. Enterprise Forum of Cambridge sponsored the competition, which was designed to find Massachusetts-based entrepreneurs with the most innovative, yet practical, solutions related to clean energy technology.
"Our company uses microorganisms to overcome the critical energy problem of mineral scale formation in water pipes," said Perry, MSS scientific founder. "Put simply, mineral plaques build up in pipes that for example, drive hot water into your radiator, and make the transfer of heat and energy far less efficient. Imagine how that would affect a large office building's heating system. To make up for the loss requires burning additional fossil fuels; this generates increased pollution and translates to millions of dollars in wasted energy every day."
MSS first came to life courtesy of a new course, Business 2107: "Commercializing Science and High Technology," organized and taught by Harvard Business School's Lumry Family Associate Professor of Business Administration Lee Fleming. "My goal for the course was to provide students from multiple disciplines like engineering and applied sciences, law, business, and medicine, an opportunity to explore all aspects of technology transfer, with particular emphasis on inventions and innovations at Harvard," Fleming said. "The MSS team certainly was a best-case scenario and then some, as it drew on the expertise of students in microbiology, engineering, product development, business administration, chemistry, and law, and represented four different schools at the University."
Entering the competition, however, was not an original part of the class syllabus. Luckily, Paul Bottino, executive director of the DEAS-based Technology and Entrepreneurship Center at Harvard (TECH), heard about the opportunity and mentioned it to the students over dinner. "I suggested they enter 'Ignite Mass' because they had a great team and a great idea and I thought it would enrich their classroom experience. The competition helped accelerate MSS toward a target market and refined their value proposition."
Perry, a DEAS research assistant, developed a plan to address scaling, a common form of water fouling that creates insulating mineral plaques inside pipes. Taking lessons learned in Gordon McKay Professor of Applied Biology Ralph Mitchell's microbiology lab (focused in part on protecting outdoor art sculptures made from similar ingredients to mineral scale), MSS's treatment strategy uses engineered polymer-producing bacteria to control scale formation in water pipe systems by sequestering scale-forming ions, promoting dissolution of existing scale, increasing the solubility of newly formed scale, and actually inhibiting scale formation itself.
MSS competed against professional and established companies with existing patents and manufacturing ability, with technologies ranging from a new type of internal combustion engine to a floating platform for harvesting wind.
Fleming, trained as an engineer himself and whose cross-disciplinary research involves how inventors successfully combine technologies, thinks that having an inventor on the team – someone who understood the science firsthand – was essential. "The best science is not always commercially compelling. MSS pulled from an existing technology that was well understood and that worked. The true credit, however, goes to the students for getting past all the usual problems of working across disciplines. They self-assembled and executed in a fantastic manner."
The Harvard team's first-place finish netted them financial and business support, including a $15,000 award and a one-year membership in University of Massachusetts, Lowell, Commercial Venture Development incubator, providing free office space and expert advice to jump-start the winning team's business (a $20,000 value). Perry, who defends his thesis this week and is postponing considerations of business school in favor of moving forward with the venture and actively developing an intellectual property and funding strategy. "I will be working on developing the Microbial Scale Solutions business and technology and hope that we can find some success developing greener solutions to this pervasive problem."